Jul. 22, 2022
The roof tent is what you can imagine-sleeping on the roof of the car. You can even call it a pop-up tent or a car roof tent. Imagine that with a rooftop tent, you can sleep anywhere, away from creepy reptiles. The attractiveness of roof tent camping makes it an ideal choice for people looking for comfort and convenience.
But is it for you? If you are not familiar with rooftop car camping, you need to know the following before you can start.
The advent of technology allows you to find a variety of brands, sizes, add-ons and materials. In particular, rooftop tents have clearly become more affordable over the years.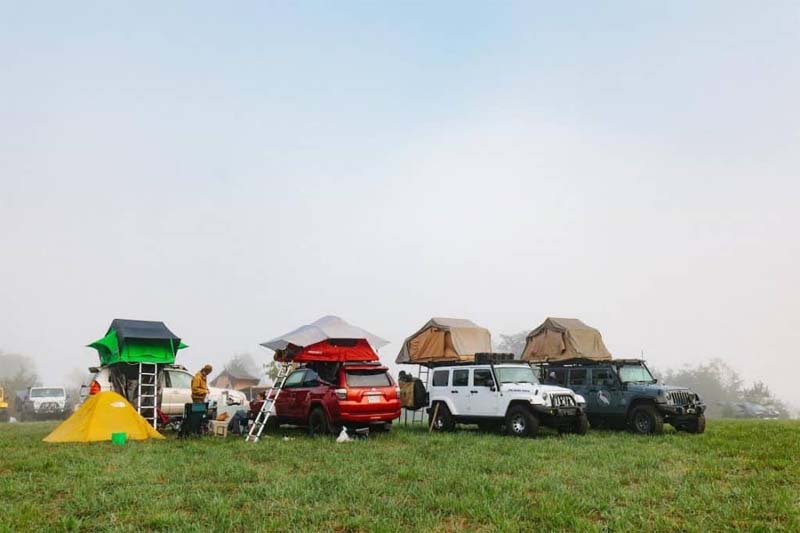 Advantages and disadvantages of rooftop tents.
Do you think there's no trouble with all this? Nowadays, rooftop tents can be all the rage, especially when Australia is famous for its wandering wildlife and insect frenzy. With rooftop tents, you can get a better position in the safety bubbles on the top of the car.

Advantages
● You can camp anywhere. Whether you want to camp in a remote inland, a cold front or behind a house, a rooftop tent allows you to camp anywhere.
● Easy to set up. As long as you meet its requirements, the roof tent can easily be sandwiched to the roof. Pitching can be stress-free, and once you put it calmly on the roof, you can quickly deploy some belts, ladders and poles.
● Provide comfort. Most mattresses have excellent foam quality and provide adequate mesh, ventilation and support. More importantly, you can sleep away from the ground, away from the creepy reptiles in summer and the cold in winter.
● More durable. Heavy and high-quality roofing equipment is usually very durable and can make better weather protection equipment.
● It's much cheaper. Compared with RVs, roof tents are much cheaper to buy and maintain.
Disadvantages
● Not so windproof. Although rooftop tents can provide better weather protection, they can also be hit in windy places.
● It's heavier. The extra size and weight of rooftop tents can lead to fuel waste and car weight pressure. More importantly, families tend to put extra equipment and equipment on tents to increase space in the car.
● It must always be folded. If your family goes out to explore the wilderness, you need to always fold the roof tent to protect your belongings. Compared with the ground tent, you can leave it while hiking or swimming, which is troublesome.
Roof tents have their advantages and disadvantages, and they are not suitable for everyone. It's all about understanding what you need for a camping trip.
Types of rooftop tents.
For those who are new to roof tent camping, an important decision is which type of tent to buy. Each tent has its own characteristics and provides advantages and disadvantages for many campers.

Soft shell roof tent.
These foldable tents provide more space because you can expand their flaps to accommodate the number of people in the tent.
The soft shell tent is small when packed together, but it can expand to twice as much living space and is suitable for tall people. However, this feature requires more setup and deletion. More importantly, most soft-shell tents are equipped with extended awnings where you can rest or prepare food.
Some tents are equipped with rain-proof overalls to help protect you from bad weather.
Hard-shell roof tent.

A hard-shell tent usually collapses, making it an aerodynamic device on top of the vehicle. Some hard shells are light, durable and sturdy, providing convenience for travel.
They also have spacious livable space hinged by four vertical walls to maximize the use of ground space. However, you can't expand it further or reduce its footprint-- you can only take up a lot of space.
In addition, setting up and storing tents is quick and easy-it only takes a few minutes to complete. This is best for families or couples who want to easily take it down when they want to leave the campsite and explore attractions and attractions in the area.
Welcome OEM and ODM orders.
Sunday Campers has exported rooftop tents since 2006. With decades of experience in making rooftop tents, we can customize tents according to your designs, drawings or samples. If you have any new ideas, please contact us immediately to discuss how to create amazing products.