car roof top tents
Our car roof top tents come with universal mounting parts that allow easy mounting to most roof racks or after-market roof bars.
We are a professional roof tent manufacturer in China. Interested in being our dealer, please contact us.
roof top tents Specification
| | |
| --- | --- |
| Model | SRT01S-56 |
| Size (Open) | 56" wide x 94" long x 49" high(143x240x126cm) |
| Size (Sleeping) | 56" wide x 94" long(143x240cm) |
| Size (Closed) | 49'' wide x 57'' long x11'' high(125×145x28cm) |
| Sleep | 2 to 4( two adults and two children) |
| Weight (Empty) | 57KG |
| Body Fabric | Rip-stop canvas/polyester, Breathable, Mold resistant, UV protection, Waterproof PU coating |
| Rain Fly/Annex | 420D Polyester Oxford with taped seams and PU coated |
| Travel Cover | Heavy-duty 680g/1200D PVC UV protection |
| Mattress | 60mm thick high-density foam with removable/washable fabric cover(65mm and 70mm thick for option) |
| Poles | Dia 16mm Aluminum pole(dia 25mm Pole & fabric wrapped Pole for option) |
| Ladder | Sliding adjustable aluminum ladder(telescopic ladder for option) |
| Base | Lightweight Aluminum base with insulated foam and Aluminum frame(diamond Alum base and honeycomb base for option) |
| Installed Parts | 2 pieces C Channel+some stainless steel parts |
| Annex floor | Removable PVC |
| Optional | Annex Room/Skylight/YKK zipper/Alloy bracket/shoes bags/Mesh bag, etc |
| Color | Fly/Annex: Beige/Coffee/Grey/Green/Black/orange or customizedTent body: Beige/Grey/Green/Orange or customized |
| Other | Fabric with CPAI-84 fireproof is option |
| MOQ | 10pcs(sample order is acceptable) |
| Shipping | Assist customer to arrange the shipping |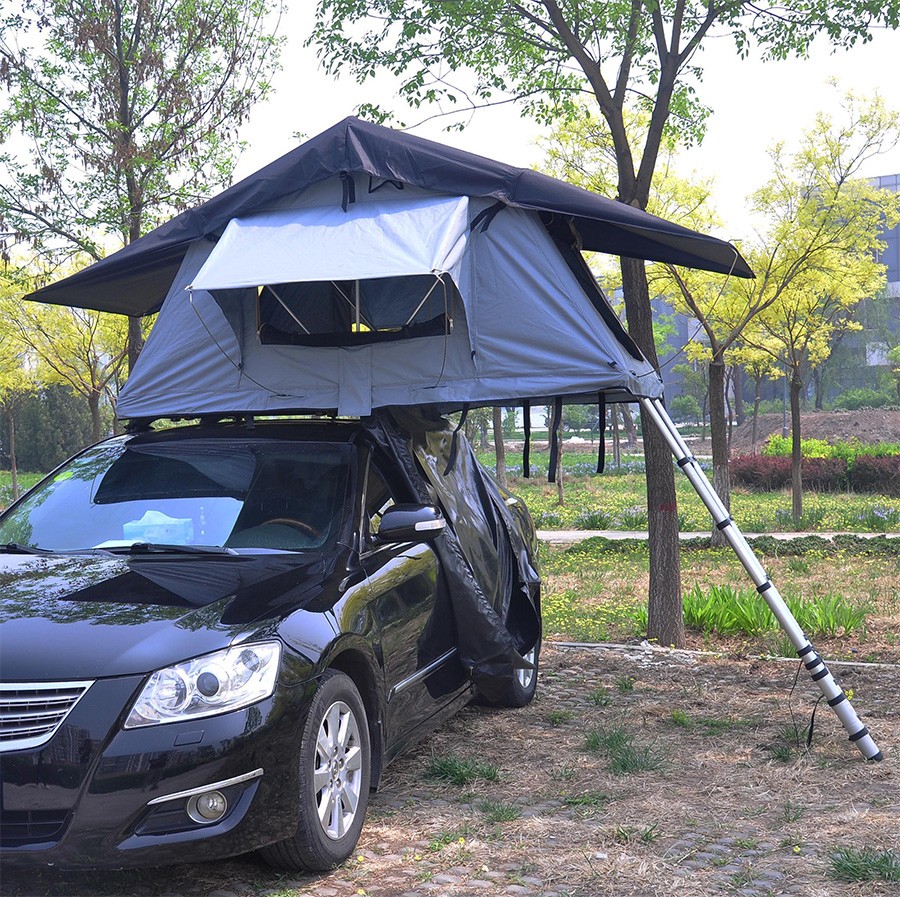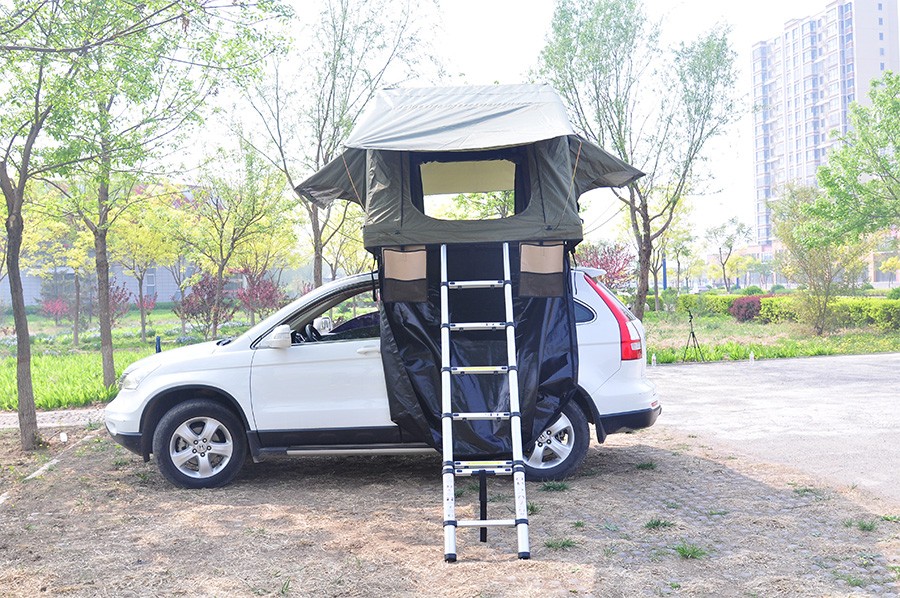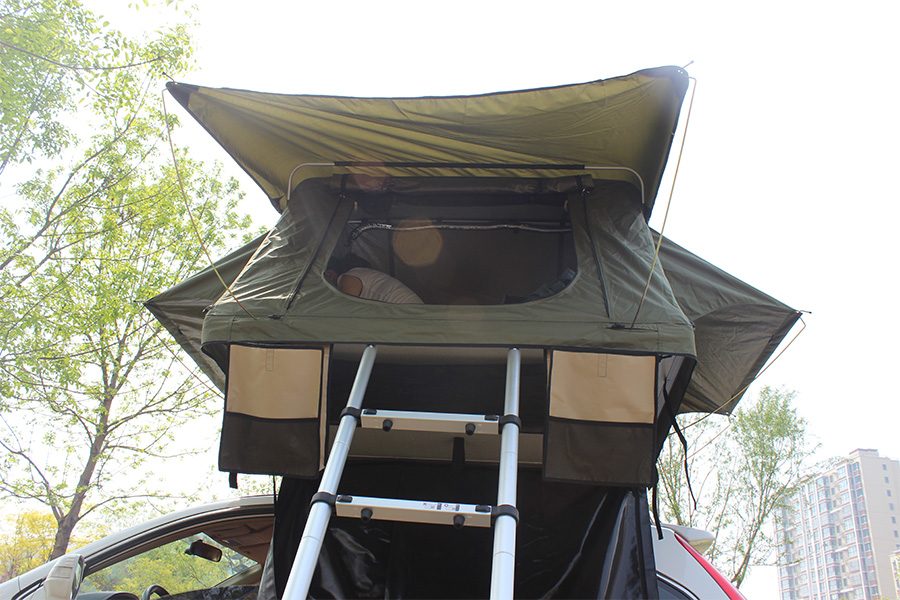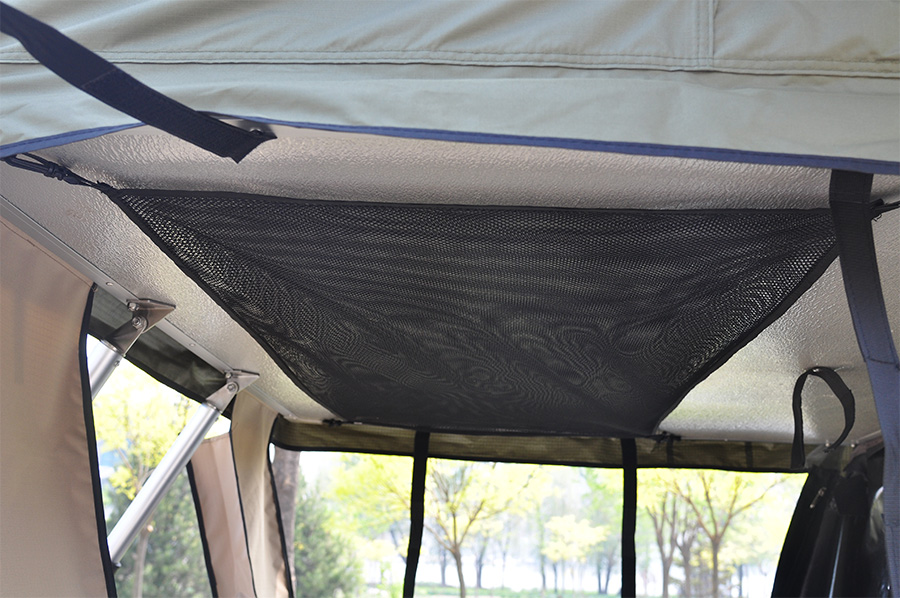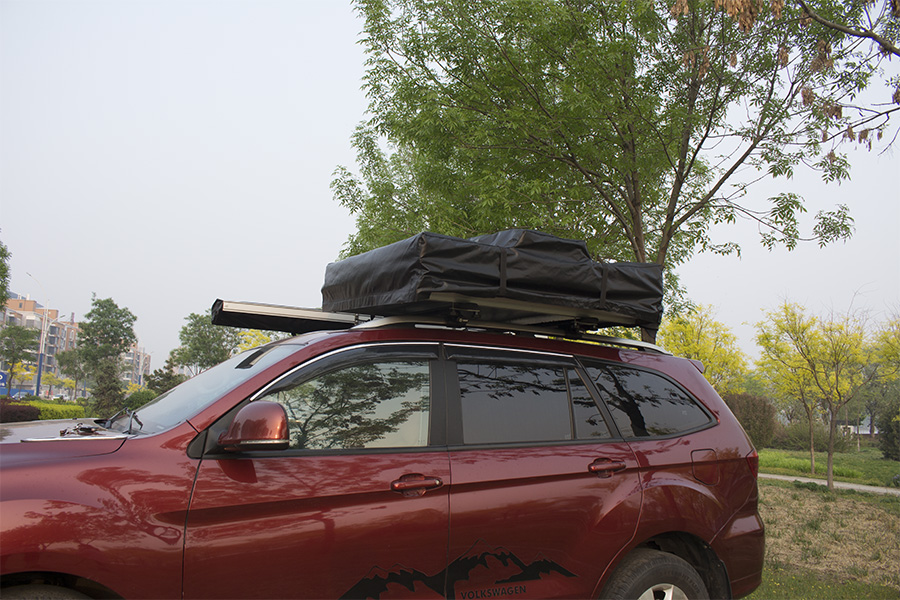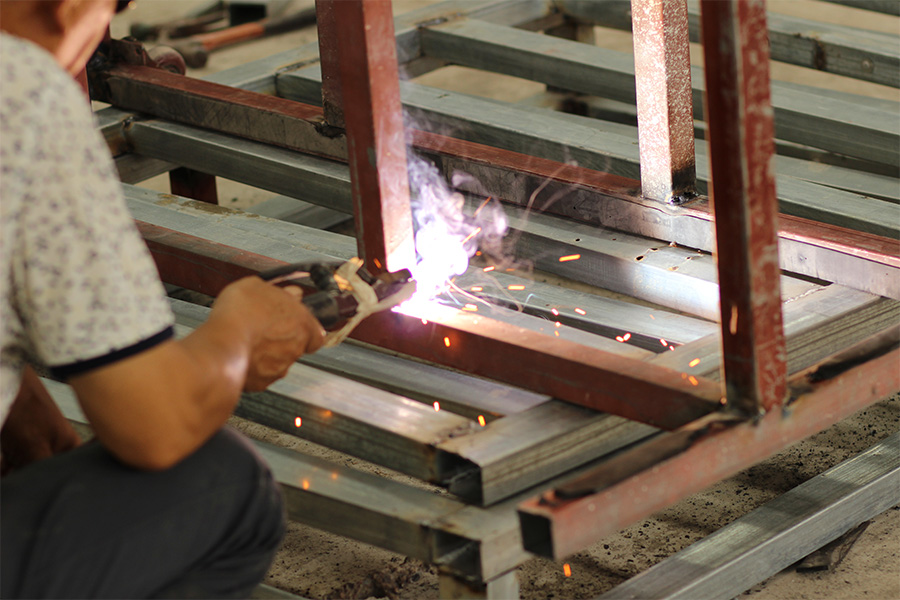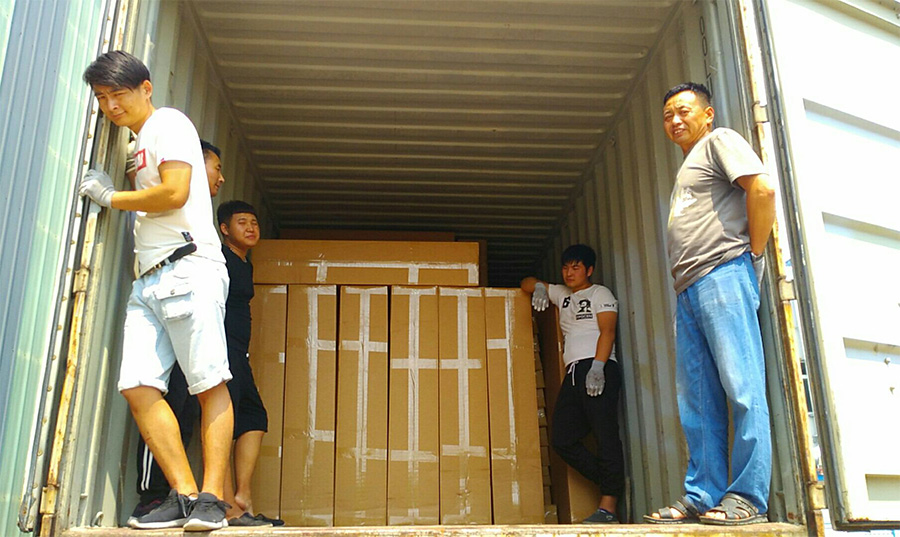 Roof Top Tent Description
The Roof Top Tentalso has term as the "home" on the roof, has a history of five or six decades in the surrounding industries developed with the automobile manufacturing industry. With the increase in car ownership in China, self-driving tourism is gradually warming up, and the Roof Top Tents is one of the optional equipment for outdoor self-driving tour.
With the development of Roof Top Tent in recent years, more and more new products have appeared in everyone's field of vision, from the streamline of appearance to the reduction of weight have been significantly improved. This effectively increases the convenience of travel.
The roof tent products independently developed by China have also been accepted and accepted abroad.
The Roof Top Car Top Tent is easy to install, adapt to a variety of models, and complement the off-road vehicles, SUVs, jeep and truck. The roof tent is known as the home on the roof of the car, and it truly realizes the artistic conception of building a home and being safe.
Roof Top Tent, which term is also called a rooftop tent. We have many products, including rooftop tent with mattress, hard shell rooftop tent, rooftop tent with windows. and our rooftop tents are popular among people in many countries. When camping, our rooftop tents are easy to install by our smooth gear, and the hard shelf can make the trip safer, and our rooftop tent is waterproof, which can make sure that we can stay away from the interference of rain and snow, when our When rooftop tents are installed on vehicles, our material of product will not cause scratches and other effects on the vehicle body, and our vehicle top tent has foam pads inside to ensure the comfort of the entire camping trip, the size of rooftop tent is designed from the various models of cars. The canopy has many materials, such as canvas, cotton, polyester, fabric and so on, which can block the light and wind from the outside. When encountering bad weather, his own weight, sturdy installation, and PVC material can be used for the installation. in additional, we also have a tent set installed on the ground, which is durable and anti weather,
Our main markets are in every countries and region, the appropriate inches aluminum shell we set up make the tent mounting is more stable, and brings a comfortable space to not only adult but children.
Your Hard Shell folding Car Roof Top Tent will probably be encouraged on your vehicle roof, whereas the side tent grips around the side and extends horizontally and vertically.
An site tent is similar to your house tent, but it expands into a parallel to the floor mode, although it also includes side covers to shield you from mosquito and sun.
Hard Shell Car Roof Tent enables one to camp into grounds where establishing a tent could be otherwise tough. Only keep your automobile onto a suitable angle against the floor and that's all.
Car Side: Maybe Not "a different" tent, But this type of tent isn't only that. Such chairs include side covers for insects or even ones offering a lot more solitude.
They're extremely simple to deploy out of your auto rooftop bars. They roll out and melts on two rods. Easy and Quick.
When you watch stars in camping, When you travel in all seasons, when you want to take the whole family out to camp, our tent is your most convenient, fitted and convenient partner, our tent can be installed on the roof rack, our tent The cloth and the box can withstand cold winds, harsh sunlight, cold ice rain. Our tent includes included installation tools and gifts, so you can get the installation done in minutes, we have many good review and purchase lists from all over the world, built a high reputation through purchased people by quality and service,
Best Size and Type of Roof Tent for a Particular Vehicle and Lifestyle
We have a lot of ideas about which size and type of awning is best for a particular vehicle and lifestyle. And for most things, there really is no one answer to all needs. There are many variables to consider, and as a Soft Roof Top Tent Supplier we will outline some of them and discuss options.
Outdoor camping must be inseparable from the tent. According to different loads, the tent is divided into a carrying tent and a car tent. To be straightforward is to go out to play with your tent or carry your car on your back. Of course, a donkey riding a tent can also use a bicycle to reduce the burden. Most of the car tents are fixed on the roof and can be deployed directly when needed.
two main awning styles in the consumer market:
Straight canopies.
Straight awnings are a bit common and are usually what most people think of when they think of Awning Car Side Roof Top Tent. Straight awnings are usually your best choice at a good price, with low entry costs and value for money. Many different brands have many accessories, such as rooms, walls, and mosquito nets to suit many different uses and scenarios. Due to its simplicity, this awning can be mounted on a wide variety of vehicles in several different ways.
Wing awning.
The wing awning is usually the best in the field of awnings, and most people will choose this. Its function is to use pivot points to surround the area on one side and behind the vehicle. A good example of an airfoil awning is "Foxwing Awning''. This way, you can maintain the coverage of the car's tailgate, such as for cooking, while also covering either side of the awning installation. Like straight awnings, wing-type awnings have many accessories, such as walls and extensions, to block wind / rain / daylight, or provide more covering areas for larger people. This type of awning is very suitable for people who want more hiding power, especially for cooking, games, on-site maintenance, etc. at the rear of the vehicle.
How to choose the roof top tent for your car
There are a few very simple criteria to consider when choosing an awning to mount on your vehicle.
You need a lot of it, which one is the most useful?
The back cover is useful if you plan to use the awning primarily for cooking or other tasks that utilize the tailgate. In this case, it makes a lot of sense to have a Foxwing awning or a 1.25-meter awning mounted on the rear of the vehicle. The reason you choose it is based on the size you choose.
If you want to use the awning mainly to relax and provide the ability to block sunlight / rainwater, then install a straight 2.0m or 2.5m awning on the side of the vehicle.
How big is the vehicle you want to install the roof tent on?
As long as it is safe to install, it is your personal choice which size to install. Our company also has China Roof Top Tent on sale, welcome to consult.
With the rise and development of outdoor sports at home and abroad, people are no stranger to the word camping. Many people use camping as a fashion. They go together on weekends and holidays to experience the wind and drizzle of nature, and appreciate the tenderness of nature. However, many beginners who don't know anything about outdoor products, so in the future, as a Car Roof Tent Exporter, I will introduce you to outdoor products in detail, so that all donkeys know what outdoor products are suitable for themselves Unjust money, if you understand the style, structure, specifications, materials, performance indicators, use and maintenance of outdoor products, you can say that you not only know how to choose outdoor products but also understand how to use outdoor products.
The Difference Between a Double Tent And a Single Tent
And we can provide double tent and a single tent, so what's the difference between a double tent and a single tent?
1.Single-layer roof top tent
The single-layer tent manufacturing process is relatively simple, and its biggest features are lightness, economy, and small size.
2. Double-deck roof top tent
The difference between the double layer and the single layer is the addition of a layer of better air permeability in the design. In the cooler seasons, the heat removed by the human body will condense water drops on the inner wall of the tent under the effect of the air outside the tent. If it is a single-layer tent, the water drops will flow down the inner wall of the tent and wet the sleeping bag. After the internal account is added, the external account is not directly connected to the internal account. At this time, the heat emitted by the human body will pass through the internal account, so that the water droplets condensed on the external account will flow into the ground, which solves the inner wall of the single-layer tent well. Problems with water.
Car Roof Tent's safety performance is very important, with high requirements for configuration and strength. The only considerations are windproof, rainproof performance, and the weight of the tent. Generally, it is not recommended to buy a professional account for travel, camping, and camping.
Leisure account considers convenience and practicality, mainly from its appearance, color, use performance, sun protection, carrying all aspects of comprehensive consideration. It is fashionable in appearance, beautiful in color, versatile, ventilating and ventilating, convenient for folding, and it can also protect against sun. In order to adapt to different temperature environments, tents are divided into different structures such as single-layer, double-layer, and three-layer:
The advantages of single layer are lightness, economy, small size, and simple manufacturing process. The double-layer is different from the single layer in the design by adding a layer of a more breathable inner tent, which mainly solves the contradiction of water condensation on the inner wall of the single tent. Because in the cooler season, the hot air exhausted by the human body will condense water droplets on the inner wall of the tent under the effect of cold air outside the tent. The tent is not directly connected to the bottom of the inner tent. The heat emitted by the human body will pass through the inner tent, and the water droplets condensed on the outer tent can flow to the ground. Double tents are suitable for cool seasons or cold areas. The design of the three-story tent is another layer of cotton tents in Riga, the inner tent, to further enhance the thermal insulation effect. This tent is used in an environment of minus 10 degrees, and the temperature in the tent can rise to about zero.
The advantage of the car roof top tent we provide
1. Stay away from Snakes, spiders, bears
With Vehicle Awning you can sleep safely and without interruption. Don't worry about mosquito bites and the threat of large animals.
2.Comfort.
After a long day out hiking, you're sure to get a good night's sleep. Vehicle Awning can make you sleep well. Keep you away from the sun and rain.
3.Set up your tent in one minute.
It's very simple and convenient to set up, it won't delay for a long time and it takes a lot of effort.
4. Extend your camping season.
You can travel anywhere in the year without worrying about the seasons.
5.Save room for your gear.
Vehicle Awning Tent is very space-saving and can be folded. You can have more space to store other things.
6. Keep it on your car at all times.
Can be fixed in the car without frequent disassembly. It can be installed anytime, anywhere.
Friends who like to camp outdoors, you must have encountered this situation: self-driving car is too crowded, night camping is deeply troubled by mosquitoes, can not camp due to bad weather, environmental restrictions, you may need a self-driving artifact to give you a safe Camping outdoors! This is the Roof Tent.
Most of the roof tents with high-strength fabrics and metal structures have been tested for wind, rain, sand, and even warm insulation. Compared to sleeping in the car, it is obviously possible to save more space and carry More luggage can also sleep more family or partners.
As for everyone's question about whether the roof tent will be stolen, I think the answer is obvious. On the one hand, the roof tent has a certain weight, and it is not so easy to steal it.
About Sunday campers

Sunday Campers has started exporting the car roof tent since 2006, is the first batch factories which manufacture the roof tent in North China. We are focusing on roof tent so we are professional. Now we have 60 more skilled workers and a 10 people service team, and exported to more than 30 countries, the main market is America, Canada, Europe and Australia.With decades crafting experience in roof tent, we can customize the tent according to your design, drawing or samples. Any new ideas, contact us right now to discuss how to build a amazing product.