Dec. 23, 2021
Although rooftop tents have become popular in the United States over the past decade, they are not a new phenomenon. In fact, rooftop tents (RTTs) have been around since the late 1950s.
While construction styles and materials have changed over the years, RTTs remain very true to their two distinct styles: the hard shell and the folded fabric model known as the softshell.
Choosing which one (hardshell or softshell) is right for you will require weighing priorities and price.
Owning a new RTT down the road will set you back some serious cash. Before jumping in with both feet, consider how often you'll be using your tent. If you camp with your family occasionally (four to five times a year), you may want to consider an entry-level RTT. entry-level tents are likely to be soft-shell tents ranging in price from $1,100 to $2,500. If you venture out more frequently and/or are looking for something more rugged with higher quality materials, you should consider a hard-shell fiberglass, carbon fiber or aluminum RTT. these will set you back $3,000 to $4,000.
Whichever RTT you end up choosing, you need to consider the pros and cons of each setup. Often the only way to do this is to try it out for yourself in the real world. Fortunately, you can find someone who owns both types of tents and can give you an honest assessment.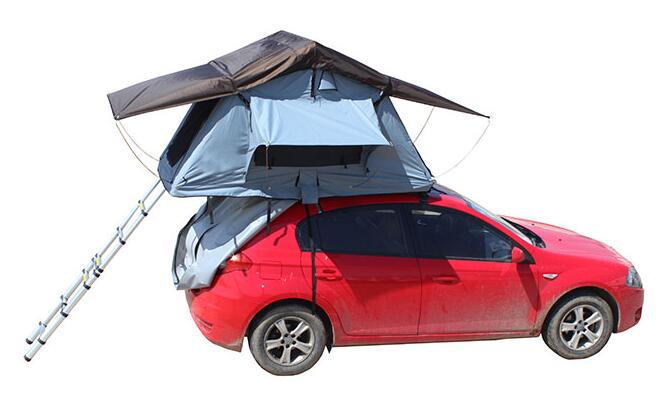 Softshell Roof Tents
Softshell RTT Advantages.
Because the folding fabric RTT has a hinged base that cantilevers away from the vehicle, a tent like this takes up far less space on the roof rack than a hard-sided version. Depending on the total surface area of the roof, this can be anywhere from a quarter to half the size of a roof rack, which can be used to store storage boxes or anything else you want to put on the roof of your vehicle.
Another advantage is the shadow that a cantilevered tent creates on the back or side of the vehicle. If you add an accessory room to the bottom of the tent, you have plenty of room to store gear and a great place to change clothes if needed.
Softshell RTT Disadvantages.
In short, folding fabric softshell tents aren't easy to set up. The tent itself is protected from the elements by a heavy waterproof cover. To access the tent, you need to unzip the cover, fold it back, open the tent, climb up the ladder, tighten the interior frame and insert the window flaps. This requires a variety of climbs on and around your vehicle.
Most softshell RTTs will not accommodate your sleeping gear, so they will need to be removed from the vehicle and placed in the tent. The whole process can take 15-20 minutes. Throwing it away is even worse. Like trying to insert a square peg in a round hole, folding the excess fabric neatly to re-cover is a chore in itself. Don't mind if it's raining or very hot when you're trying to break camp.
If you've ever used a softshell RTT in a storm, you'll know the lack of peace and quiet. Soft windows fly around and the sides of the tent often slap against the interior tent frame, causing what can only be described as "commotion". I spent many sleepless nights in the Southwest desert as the nighttime temperatures dropped causing thermal drafts. One thing I never left home without when I had my softshell RTT was a pair of ear plugs.
Hardshell Roof Tent
Hardshell RTT Advantage.
One word: aerodynamics.
A hardshell RTT usually tapers from front to back, and while some models are heavy, this tapered shape allows the wind to blow around it instead of hitting the brick walls of the soft-shell tent on the roof. If you drive an older Land Cruiser like I do, you'll appreciate the extra gas mileage.
Setup is much easier than using a soft shell RTT. The air struts open my tent for me. I just grab the ladder, set it up, and close the window. The whole process takes four minutes - and that's it. I timed it. I can have the tent fully set up, the awning fully deployed and enjoy a beer after the drive in less time than it took to set up the old softshell RTT. Breakdowns take a little time, but we can pack up and hit the road in about five minutes.
Disadvantages of the hardshell RTT.
Weight is one factor that may deter people from the hardshell RTT. We could have a full debate about the gross weight rating of the vehicle and how most overlanders place zero value on it, but it's safe to say that a 150- to 180-pound hardshell tent is likely well above the design carrying capacity of the gutters.
Another drawback is that the hardshell RTT takes up the entire roof. This makes it difficult to carry any other items on the roof.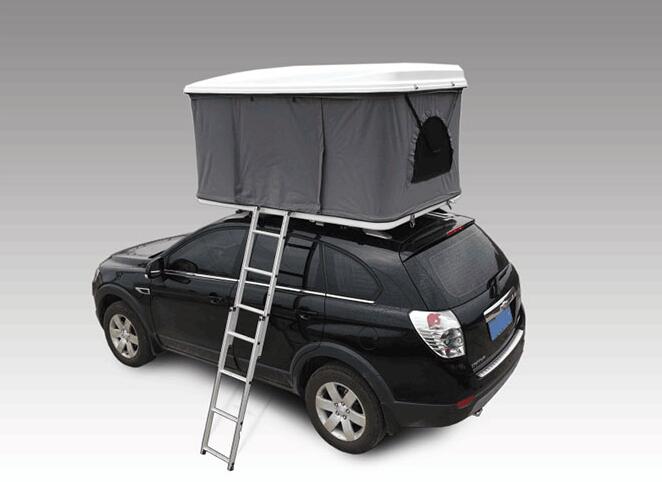 So which should I choose, a hardshell or a softshell?
Ultimately, the decision is yours. You know best how you will use your tent. If I had to choose, I would 100% go with the ease and convenience of a hardshell, even if it meant giving up roof rack storage. If you can afford the initial investment, you'll be happier in the long run.