Dec. 09, 2021
Camping is all the rage right now - and it's great! - With the emergence of fashionable demand comes a wide variety of offers on the market.
The list of options for accommodation on wheels has become longer and longer, and you will naturally find yourself wondering what the best option is. Should you get a rooftop tent or a trailer? What are the advantages? and disadvantages? How do you know which options are better suited to your needs?
Trailer
First, it's important to know exactly what type of trailer we're talking about.
The term trailer encompasses all kinds of homes on wheels, from the smallest teardrop trailer to a giant fifth-wheel trailer that you can take almost the entire family on a nightmarish but loving and fun-filled vacation.
When we talk about trailers here, we are referring to compact camping trailers such as pop-up campers and teardrop trailers.
Despite their reduced size, some of these compact models have a variety of features that make road trips fun and comfortable. It's not uncommon to see showers in the kitchens of pop-up campers and teardrop trailers.
But it's best to weigh the pros and cons before deciding that a camping trailer is a good choice for a nature trip.
Advantages
Camping trailers can have multiple features - Depending on how much you want to spend, camping trailers can have several useful features, such as a refrigerator, bathroom and air conditioning. Even transient campers (higher priced campers) can have fully equipped bathrooms: toilets and showers.
You can leave your home at the campsite - If you want to drive somewhere, either to explore the surroundings or to go to the store, you can unpack the camping trailer and leave it at the campsite. This is something you can't do with a rooftop tent.
Plenty of storage space - With a camping trailer, you have more room to store your gear, bedding and clothes. This frees up space inside the vehicle and makes the trip more comfortable.
Disadvantages
Trailers are more expensive - Camping trailers are more expensive than rooftop tents. You can get a good quality new rooftop tent for $4,000, but when it comes to a trailer, a well-equipped tent is at least twice as expensive.
Trailers get higher gas mileage - the heavier the vehicle, the higher the gas mileage. Gas mileage also increases with a rooftop tent, but a camping trailer is much heavier, thus making gas mileage higher.
Takes time to set up - While it may not be the most complicated thing in the world, it certainly takes longer to set up a camping trailer than it does to set up a rooftop tent.
Not for every car - Most cars lack the hardware to tow, so you have to buy and install a trailer hitch. While installation is relatively easy, you must read instruction manuals and videos and have specific tools on hand.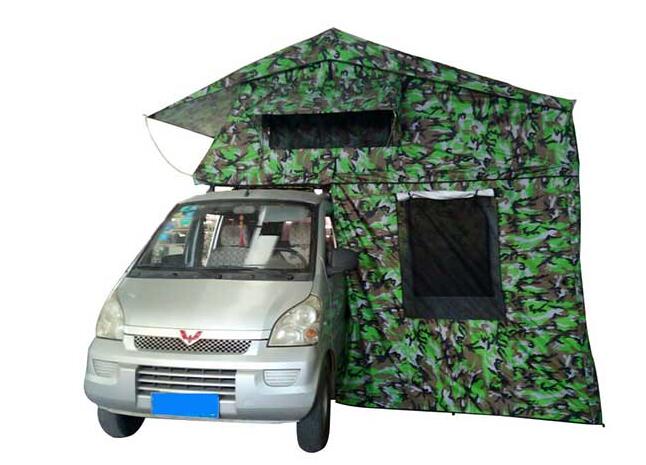 Rooftop Tent
Climbing on top of your car for a nap sounds like a great idea for a kid's afternoon. Well, it's definitely something our younger selves would enjoy doing. Roof top tents give you the opportunity to enjoy the roof of your car, but in adult form, without the folly.
The RTT is a tent that can be mounted on the roof of almost any vehicle. The idea behind this type of tent is to make life easier for campers who like to take spur-of-the-moment road trips.
There are two main types of rooftop tents: hard-shell tents and soft-shell tents.
Hardshell roof tents are the most durable, the safest, the easiest to set up, and certainly more expensive. However, they have a smaller footprint because these RTTs don't fold - instead, they pop up from the roof.
Soft-shell roof tents, on the other hand, can take more time to set up, but they are usually more spacious because they are collapsible. When unfolded, the footprint can be surprisingly large.
Going into nature or a campground with a rooftop tent sounds fun, and it may even offer you a unique experience - if you choose your destination well, you may end up sleeping with a beautiful view.
But what's really worth trying a rooftop tent for? So you can find out what to expect from an RTT, we've listed the pros and cons.
Advantages
Rooftop tents make nature vacations easier - Rooftop tents make it easier for more people to enjoy outdoor vacations because 1) almost every vehicle can support RTT and 2) prices start at $1000. Just check all available weight information before you buy. Some RTTs are very heavy and you must make sure your car can handle it.
Setup is easy - it only takes a few minutes to set up. Best of all, most rooftop tents allow you to leave your bedding in place while the tent is packed, which means you don't even have to worry about making your bed after a long day.
Plus, you can sleep anywhere - you don't have to find flat ground to set up camp. Even if you find yourself in an area that isn't wide and flat, for example, your RTT will still work perfectly if you can level the vehicle with something like blocks.
Safety and RTTs go hand in hand - sleeping on the ground keeps you away from animals, whether they're scary like crocodiles, lions and snakes, or cute like squirrels!
Rooftop tents are durable and easy to maintain - Although "just a tent," most rooftop tents have a sturdy structure that won't budge in bad weather. There may be flapping in strong winds, as some RTT's canvas sides will flap in the wind, but no need to worry - if you catch a little wind, you certainly won't be Dorothy of Oz. These canvases are strong and durable, so they're built to last. If they flapped too much, you can choose to turn the canvas more tightly.
In addition, many rooftop tents have sturdy fiberglass panels
These tents are also easy and overall cheap to maintain. Just keep them clean, check to see if they need lubrication, and let them dry completely before folding to avoid moisture. It should be added that some RTTs come with a lifetime warranty that covers damage to the shell.
It's really comfortable in a tent - sleeping above ground level makes it easier to get a breeze so you can sleep a cool night in your tent - well, it gets cooler in warm and hot weather.
RTT Simplifies Travel - Do you want to go camping this weekend? Easy - It only takes a few minutes to set up your rooftop tent. If you keep your bedding in place, you're ready to go! Well, sort of, you should take a few extra minutes to pack some things you might need ......
Another thing that makes this type of camping trip easy is that you don't have to worry about special driver's license categories or classes.
Disadvantages
Toilet every night - Having to go to the bathroom in the middle of the night can be challenging due to the presence of a ladder. While this may be a great way to work on leg toning, it is not comfortable, easy, and sometimes can even be dangerous, especially for small children.
Not suitable for all more than 2 people - RTTs are usually not suitable for more than 3 people, so they are not suitable for all families, mainly those with young children. Rooftop tents are also not very pet-friendly, especially because of the ladders, but also because of the space - or lack thereof - in the tent (if you have a smaller model). There are many ways to get around obstacles, such as creating a different entrance for your dog with planks of wood, but then it starts to get complicated, which is not the purpose of a rooftop tent.
Not all campgrounds welcome RTTs - some campgrounds do not accept vehicles with rooftop tents due to height issues.
Sometimes there isn't enough storage space - Rooftop tents don't offer as much storage space as camping trailers, which means you have to put a lot of the items you want to carry on your trip into your vehicle. The reduction in space inside the vehicle may make the trip less comfortable.
Conclusion
Rooftop tents and camping trailers meet different needs. Nonetheless, at the end of the day, a rooftop tent allows you to run more freely on your vacation, spend less money, and be able to enjoy nature in a way that a trailer cannot.