Dec. 30, 2021
Rain-soaked sleeping bags, soaked camping gear, and worst of all, a soggy bottom. These, and more wet dilemmas, are the problems many campers face when a sudden rainstorm hits their outdoor trip. Keeping a dry rooftop camper in wet and wild weather can be a challenge if you are not fully prepared.
Here are five tips for keeping your rooftop tent and everyone and everything inside it dry, no matter what Mother Nature has in store.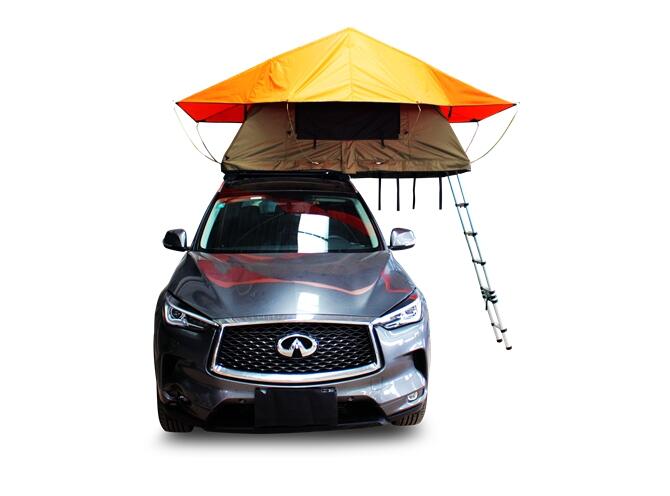 5 Tips for Keeping Your Tent Dry

Tip 1: Wet the rooftop camper before use
It may seem strange, but getting your tent wet before venturing out can help prevent leaks when it pours. This is called "seasoning" the tent material, and it helps reduce the size of the stitching holes.
To do this correctly, you will need to do the following.
1. Set up the tent at home, making sure to remove the mattress and rain cover (the rain cover is described in detail in Tip 3)
2. Make sure the doors, windows and flaps are fully zipped up
3. Spray the entire tent with water using a garden hose - this causes the fabric to swell, creating a tighter bond between it and those pinholes
4. After spraying the tent, let the water sit for a few hours
5. Be sure to allow plenty of time to dry before packing; the last thing you want is a moldy, mildewy mess when you arrive at your camping destination.
After making sure every nook and cranny is completely dry, pack up your tent until you head to the river, forest or mountains.
Tip 2: Use a fabric shield
Many rooftop tents are waterproof and made with high-end, durable materials. But as with anything, over time, natural waterproofing will begin to wane and become less effective. It can be very helpful to enhance existing waterproofing by using a fabric protective spray. Even if you have a hardtop tent, the materials that make up the walls still need extra protection, and taking the time to use a fabric shield can really help take the waterproofing of your rooftop tent to the next level. As an added benefit, it also helps protect against stains.
There are many options, so do your research to find the best product for your particular rooftop camper. A great option is to consider a fabric protection spray that not only helps with moisture, but also mildew and sun protection. These are the added benefits of using a fabric protection spray when you find yourself caught off guard by these elements while camping.
Tip 3: Use a rain fly
The name "rain fly" sounds obvious, but for many rooftop tent owners, especially first-timers, the concept can be confusing. You may have looked at your tent pieces and wondered what that extra, oddly shaped piece of material is used for. Simply put, it helps keep rainwater out of your tent, so even if you get caught in an unexpected storm, you'll stay dry and comfortable.
Rainfly materials usually come with their own waterproofing treatment and are often made with highly durable fabrics. This special waterproof layer pushes rainwater away from the tent body to prevent leakage. When utilizing this extra layer of protection, use the guide lines (poles) provided to help hold it in place and keep the material pulled tight to avoid puddles forming in unwanted areas. Over time, this can cause serious damage to your umbrella and roof tent.
There are some additional benefits to using an umbrella on a roof tent.
1. It helps prevent excessive debris from falling onto your tent
2. It provides additional insulation between the inside of your tent and any cold, wet weather outside
3. It adds a little stability to your tent due to the use of extra guide lines.
If your rooftop tent is not equipped, a rainproof tent is a good investment because it helps protect occupants from inclement weather.
Tip 4: Use ground flies
While rain flies help protect you from moisture such as rain or snow, ground flies help prevent moisture from seeping into your tent from below. Simply place it underneath the roof of your SUV. This durable, waterproof material protects the bottom of your tent from things like rain splashes. While typically used for traditional tents placed on the ground, the results are surprisingly similar when used under a rooftop tent, whether it's a three-person rooftop tent, a hardtop tent or anything in between.
Unfortunately, rain doesn't always fall in a perfect vertical direction. Sometimes it can fall sideways, especially if storms are accompanied by gusts of wind. The ground cloth is an important part of keeping your tent dry and protecting the bottom of your tent.
Tip 5: Use a tarp
Tarps are excellent camping essentials and can be used for many purposes, including as temporary ground flies. To help keep your SUV top dry, cover it with a tarp roof and secure it with parachute cords tied to nearby trees to add an extra protective barrier.
When building a tarp roof, it's important to create an angle to ensure that excess water runs down the sloped side of the tarp, rather than pooling in the middle. In addition, when sloping the tarp, keep the high points as far away from the wind as possible. You want to do this so the gusty wind doesn't pick up your tarp and blow it away. If you can't see the trees, another option is to wrap a few tarps around your tent and secure them tightly with clips. While it may look a little funny (much like a badly wrapped birthday present), it definitely helps achieve your goal: stay dry.
In conclusion
No one wants to be left out of the rain or caught off guard when an unpredictable storm catches their rooftop camper off guard. Whether you use umbrellas, ground flies or a tarp roof, remember to protect your rooftop tent with fabric to add a protective barrier between you and the natural environment. By taking these weather-related precautions, you'll be well on your way to a fun and comfortable camping experience.