Feb. 02, 2023
A camouflage roof tent is a type of camping tent that is mounted on the roof of a vehicle. It is a popular option for those who enjoy outdoor activities and camping, but want a more comfortable and convenient way to sleep in the wild.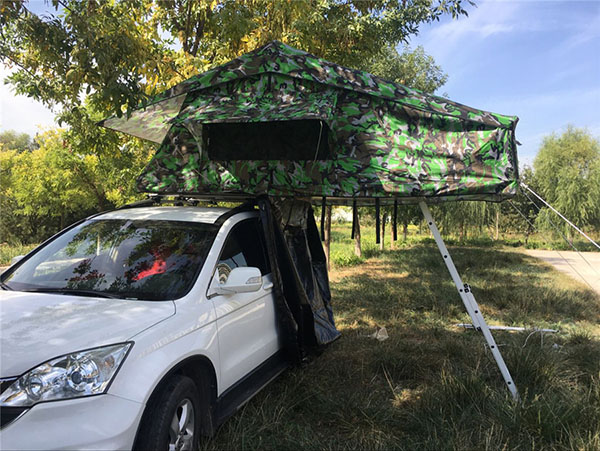 Here Are Some Reasons Why You Might Choose a Camouflage Roof Tent:
Vehicle access
With a roof tent, you have the advantage of being able to sleep close to your vehicle. This can be convenient if you need to access your vehicle during the night or if you have equipment stored inside.
Elevated view
A roof tent provides a higher perspective and a better view of your surroundings. This can be especially beneficial for bird watching, wildlife viewing, or simply enjoying the scenery.
Off-road accessibility
If you plan on traveling off-road, a roof tent provides a convenient and safe option for camping. The tent is mounted on top of your vehicle, which means that it is not as susceptible to damage from rough terrain as traditional ground tents.
Easy setup
Roof tents are designed for quick and easy setup. This can be especially beneficial if you are camping in remote locations where you may need to set up camp quickly or if you are traveling with young children or pets.
Space-saving
A roof tent takes up less space in your vehicle than a traditional tent and sleeping gear. This is especially important if you are traveling with a small vehicle or if you need to make room for other equipment.
Camouflage design
The camouflage design of a roof tent can blend in with your surroundings and help you blend into your environment. This can be especially beneficial if you are camping in areas with strict regulations on camping or if you simply prefer a more natural look.
In conclusion, there are many reasons why you might choose a camouflage roof tent. Whether you are looking for a convenient and comfortable way to sleep in the wild, or simply want a unique and eye-catching camping setup, a roof tent is a great option. Just be sure to consider factors such as vehicle type, capabilities of camouflage color roof tent wholesaler, budget, and your specific camping needs when selecting a roof tent.
Are you interested in learning more about camouflage color roof tents for sale? Contact us today to secure an expert consultation!