Sep. 01, 2023
Imagine waking up to the soothing sounds of nature, greeted by the gentle rustle of leaves and the melodious chirping of birds. Now, picture yourself atop your vehicle, cocooned in a comfortable haven that offers both shelter and a front-row seat to the beauty of the wilderness. The waterproof car roof top tent has emerged as a game-changer in the world of camping, transforming the way adventurers engage with the great outdoors. In this in-depth exploration, we dive into the intricacies of the waterproof car roof top tent, uncovering its advantages, features, and how it can elevate your camping escapades.
Introduction to Waterproof Car Roof Top Tents
A Marvel of Camping Innovation
The waterproof car roof top tent is a testament to ingenious design meeting the demands of modern outdoor enthusiasts. Crafted to provide a safe and comfortable sleeping space atop your vehicle, these tents marry convenience with ruggedness, allowing you to camp with ease in various terrains and weather conditions.
Weather-Resistant Marvel
One of the standout features of these tents is their waterproof design. Equipped with durable and weather-resistant materials, they shield you from rain, dew, and other elements that could dampen your camping experience. With a waterproof car roof top tent, you can sleep soundly without worrying about sudden weather changes.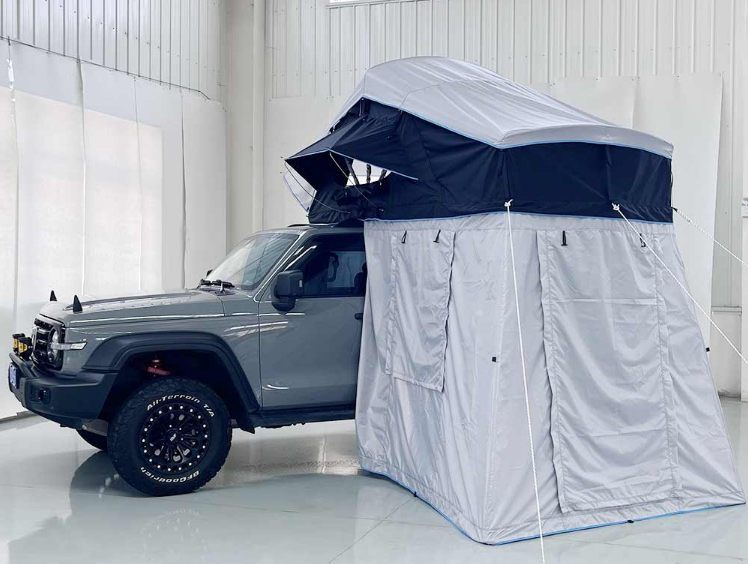 SRT11E New Arrvial Outdoor 2-5 Person Waterproof Car Roof Top Tent For Camping
Advantages of a Waterproof Car Roof Top Tent
Easy Setup and Accessibility
Setting up a waterproof car roof top tent is remarkably straightforward. Many models are designed with user-friendly mechanisms that allow you to unfold, secure, and prepare your sleeping space in a matter of minutes. This convenience is especially valuable after a long day of outdoor activities.
Elevated Safety and Comfort
These tents provide an elevated camping experience. With your sleeping quarters above ground, you're safe from critters, insects, and uneven surfaces. The comfortable mattress and built-in ventilation ensure a good night's sleep, leaving you refreshed and ready for the adventures that await you.
Panoramic Views
Imagine gazing at the star-studded sky as you lay comfortably in your tent, or waking up to a breathtaking sunrise. A waterproof car roof top tent offers unmatched panoramic views that ground-level tents simply cannot provide. You're not just camping; you're indulging in a visual feast of nature's wonders.
Space Optimization
Waterproof car roof top tents optimize space in a unique way. The tent's compact design doesn't consume valuable storage space within your vehicle, making it a practical option for those who prioritize a clutter-free interior.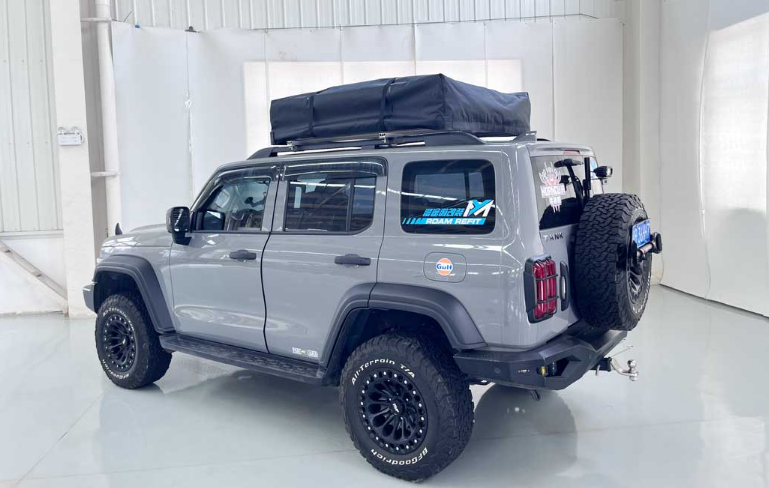 Selecting the Right Waterproof Car Roof Top Tent
Size Matters
Choose a tent size that accommodates your camping party. Whether you're a solo adventurer or camping with a partner or family, there are various sizes available to suit your needs.
Material Quality
The quality of materials used directly affects the tent's durability and weather resistance. Opt for tents crafted from robust and waterproof materials that withstand the rigors of outdoor conditions.
Ease of Use
Look for models with user-friendly mechanisms for setup and takedown. A tent that can be quickly assembled or packed away ensures a hassle-free experience.
Additional Features
Explore models that offer added features such as built-in lighting, storage pockets, and zippered windows for enhanced ventilation and views.
Conclusion: Embrace the Elevated Adventure
A waterproof car rooftop tent is a gateway to a new dimension of camping. It redefines comfort, safety, and connectivity to nature, enabling you to savor the beauty of the outdoors without compromising on convenience. Whether you're embarking on a solo journey, a romantic getaway, or a family expedition, a waterproof car roof top tent transforms your camping escapade into an elevated adventure.
Sunday Campers has started exporting the roof tent since 2006, is the first batch factories which manufacture the roof tent.
OEM and ODM Orders Welcomed
With decades crafting experience in roof tent, we can customize the tent according to your design, drawing or samples. Any new ideas, contact us: https://www.sundaycampers.com/contact-us/ right now to discuss how to build a amazing product.