Apr. 13, 2022
One of the best hardshell roof tents for when you want to spend the night on top of your car is the Hard Shell Roof Top Tent Fiberglass Tallsail-57(2+ Person Tent).
The best hard shell roof tent It features an innovative design that maximizes the tent's footprint and provides usable headroom from edge to edge. And it includes tie-down points. It also has an LED rechargeable flashlight that doubles as a lantern when the sun goes down.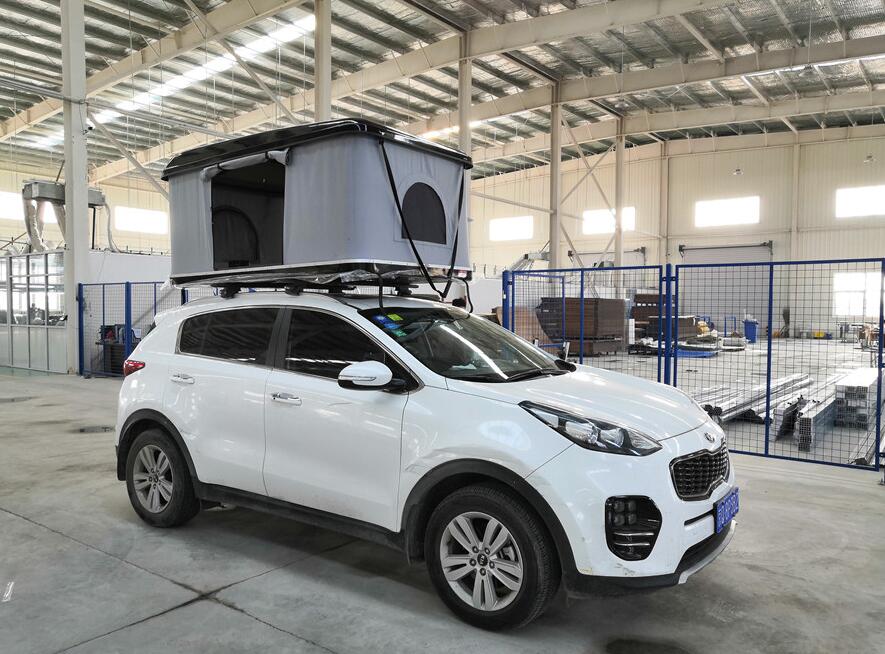 Specification
| | |
| --- | --- |
| Model | Tallsail-57 |
| Open Size | 210x140x105cm |
| Sleeping size | 210x138cm |
| Body Fabric | Polyester Canvas rip-stop Mold resistant, UV protection, Waterproof PU coating |
| Shell | Fiberglass Gel |
| Mattress | 60mm thick high-density foam with removable/washable fabric cover(65mm and 70mm thick for option) |
| Ladder | Sliding adjustable aluminum ladder(telescopic ladder for option) |
| Installed Parts | 2 pieces C Channel+some stainless steel parts |
| Optional | NO |
| MOQ | 10pcs(sample order is acceptable) |
| Shipping | Assist customer to arrange the shipping |
Hard Shell Roof Top Tent Series hardshell roof tents offer a convenient pop-up option that eliminates the need for poles. You can set up this tent in minutes, and it folds up to just 1.3 feet. It's one of the most expensive hardshell roofs available, but it's worth every penny. It also offers more flexibility than some other models, including an attached chamber for additional outdoor living space. However, if you're looking for a less expensive model, you may want to check out the Sunday Campers, which are stylish and easy to set up, but can cause problems if you have a crowded roof.

If you're looking for a more luxurious tent, the flip-top tent is a great option. Its walls are made of durable aluminum frames, and the sleeping area is somewhere between the size of a large mattress and a full mattress. Its sturdy shell is insulated to keep you warm. You can easily take the mattress with you to bed and even enjoy the view from the roof.
Roof Top Tent Fiberglass Tallsail
The Hard Shell Roof Top Tent Fiberglass Tallsail-57 (2+ Person Tent) is one of the most popular hard shell roof tents with an aerodynamic design. It can sleep up to three people, or two adults and two children. You can easily set it up in less than a minute using the lockable closure straps. This roof top tent can be used all year round, and if you want a different style, you can change the fabric.
The PP Honeycomb Shell Roof Top Tent
The PP Honeycomb Shell Roof Top Tent is a great choice for two people. It has a compact design and is only 24 inches wide. Its two-person roof tent is also available in a variety of styles. The size of your hardshell roof tent is important. Often, people prefer to use a tarp or other type of roof to protect their belongings while camping.
Hard Shell Roof Top Camping Tent Tallsail-51(1-2 Person Tent)
This Roof Tent is one of the highest rated hard shell roof tents on the market. It features a low-profile design when closed, and the flip-up setup is perfect for two people. Despite being the largest hardshell rooftop tent, it is still one of the most affordable options. Its lightweight design makes it easy to transport. This rooftop tent also has a ladder for easy access.