Apr. 22, 2022
Planning a campervan rental road trip? Understanding how a rooftop tent works and how to install it could come in handy.

Installing a rooftop tent on your camper is an efficient use of space. Instead of refurbishing your camper and putting your bedroom inside, you can choose to put it on top. What else would you put on top of your camper?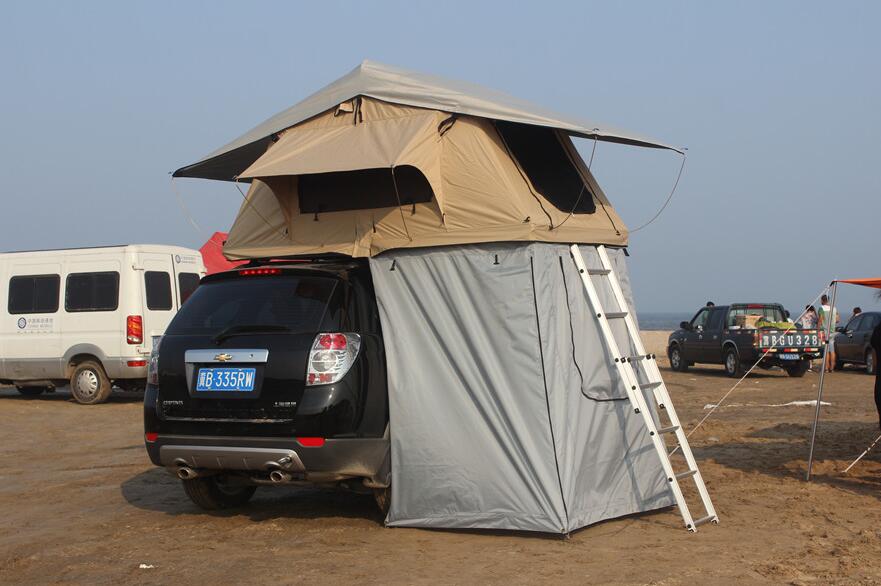 4x4 Roof Top Tent SRT01S-48(1-2 Person Tent)
What to consider before buying a rooftop tent?
Before purchasing a rooftop tent, you must find out if your car or van can handle the weight of a rooftop tent by looking at your total load limit and the weight of the tent. You will see that your vehicle has both dynamic and static loads. Dynamic load is when your car is moving and static load is when your car is stationary.
There is a big difference because the braking and acceleration power has a big impact on the load when the car is moving. This means you should see if your car can handle the weight of the tent when moving (dynamic load) and the weight of the tent + people when stationary (static load).
Once you know the maximum roof load, you can start looking at the different roof tent models.
Hard shell vs. soft shell roof tents.
A hardshell roof tent is a strong shell that makes it weatherproof. The aerodynamic properties of a hard shell will also result in less wasted mileage than other models. You can also set up this model in a very quick and easy way!
Unlike a hard shell roof, a soft shell roof is somewhat like a blockage when transporting a tent and therefore affects gas usage more than a hard shell. Another opposite feature of a hard shell is that it takes longer to set up, which is similar to setting up a regular tent. A huge win for softshells is that they are bigger! This allows more people to sleep in the tent compared to a hard shell.
Of course, hard shell and soft shell roof tents come in a variety of makes and models for you to choose from. We also have a model with hardshell tents on our Jeeps.
After choosing the right roof tent for your vehicle and needs, you'll move on to installing it on your camper or car!
How to install a rooftop tent on your vehicle
This simple step-by-step guide on how to install a rooftop tent on your vehicle is not specific to your rooftop tent, but more of an overview so you can learn what it takes to set it up!
I. Equipment.
First, preparation is key! Make sure you have all the equipment you need for your particular model, whether it's wrenches, screwdrivers or other tools. Have an extra pair or two of hands to help you lift the roof tent off the car. Finally, think about the space you have to work with, preferably with more room for you to use, as the roof tent may be a bit larger than you expect.
2. Roof rack.
This is an important step, you must have a roof rack on your car. The roof will be mounted on your roof rack, crossbars are fine!
3. Empty the tent.
Now, when you have the roof tent, you need to open the box first and then open the tent. Get the instructions, tools, ladders and other additional equipment stored in the tent. After removing everything, you can close the tent again.
4. Support rails.
Now for some models you need to add support rails, while for other models they are already included in the delivery.
5. Putting the tent on the roof.
Place your roof tent on top of your vehicle along with the extra hands you have reserved. After placing the tent on top of the vehicle, you should test to make sure you can still open the trunk of the vehicle before bolting it to the shelf.
6. Attach to the crossbar
Now attach the roof tent to the crossbar or roof rack and make sure everything is secure.
7. Secure some bolts
Finally, you may need to secure some bolts to the roof tent to attach the ladder, and then you're ready to go camping and have fun!
Traveling with a rooftop tent.
Now that you know the difference between a hard shell and soft shell roof tent and even know how to set one up, there may be a lingering question as to why not everyone has a roof tent because of how awesome it is! Well, like many things, rooftop tents aren't for everyone. Some people don't like the fact that when you want to travel to beautiful places, you may not have amenities like bathrooms and showers. It can also be very dark at night. Finally, it can be a hassle to take the tent off the car in every season that you are not using it. If these things don't bother you, a rooftop tent may be the perfect choice for you. It can be dark, but you can bring your own light with you. Having to pitch your tent over and over again can be a hassle, but you don't have to do it every day.