Apr. 06, 2023
An air caravan awning is a type of awning that is designed specifically for caravans and motorhomes. Unlike traditional awnings that require poles and pegs for support, air caravan awnings use inflatable beams that can be easily and quickly inflated with a pump. This means that there are no poles to assemble or pegs to hammer, making setup and takedown a breeze.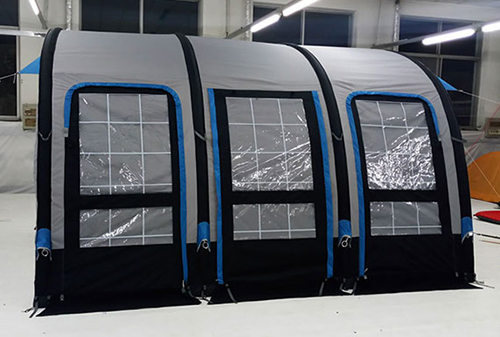 Why Choose an Air Caravan Awning?
Easy Setup
As mentioned, the inflatable beams make setting up an air caravan awning quick and easy. Most models can be fully set up in a matter of minutes, meaning you can spend more time enjoying your outdoor adventure and less time fussing with your awning.
Lightweight and Compact
Air caravan awnings are designed to be lightweight and easy to transport, which is ideal for those who want to travel light. When deflated, they can be packed into a small carry bag, taking up minimal space in your caravan or car.
Versatile
Air caravan awnings come in a variety of sizes and styles to suit your specific needs. Some models are designed to attach to the side of your caravan, while others are freestanding and can be set up anywhere. You can also choose from different materials, such as canvas or polyester, depending on your preference.
Durable
Despite being lightweight and easy to set up, air caravan awnings are built to withstand the elements. They are typically made from high-quality materials that are UV-resistant, waterproof, and tear-resistant, ensuring that they will last for many years of outdoor adventures.
What to Look for in an Air Caravan Awning
Size
Before purchasing an air caravan awning, it's important to measure the space you have available and choose a model that fits your caravan or motorhome.
Material
Consider the material of the awning and how it will stand up to the elements. Polyester is a popular choice as it is lightweight and easy to clean, while canvas is more durable and better suited to harsher weather conditions.
Features
Look for additional features such as zip-out panels for ventilation, awning skirts to keep out drafts, and awning extensions for extra living space.
Conclusion
An air caravan awning is an essential addition to any caravan or motorhome. It provides shade and shelter from the elements, expands your living space, and allows you to make the most of your outdoor adventure. With their lightweight, easy-to-set-up design and durable construction, air caravan awnings are the perfect choice for anyone who loves to hit the open road. Are you interested in learning more about air caravan awning for sale and how they can benefit you? Contact us today to secure an expert consultation!