Jun. 29, 2022
Q: I plan to go camping a lot this summer, and I keep seeing pictures of rooftop tents on social media. They look cool, but they're also pretty expensive. Is it worth getting one?
A: Rooftop tents are similar to regular tents in shape and function, but that's where the similarities end. These temporary homes, made famous on Ins, have recently soared in popularity. The tents are attached to the top of a car and come in two main styles: soft-shell and hard-shell. Soft-top tents usually open to the side, while hardshell tents pop out like the tops of old VW campers.
When we started researching rooftop tent guides, we immediately ran into some problems: rooftop tents are very expensive for most people, ranging from $1,000 to $5,000. In addition, using a rooftop tent also requires the purchase of a third-party rack, and the tent can add significant wear and tear to your car - only certain vehicles can use a rooftop tent. Ultimately, we concluded that if you want to improve your car camping experience, a rooftop tent offers little to no benefit over a regular tent. We wouldn't recommend them to most people unless you're particularly interested in living out of your car or planning a long trek.
Rooftop tents originated in the African bush and the Australian outback, where they provided a safe place to sleep and avoid tangling with everything from lions and tigers to poisonous snakes and spiders. In North America, however, we rarely see these dangers while camping. Most U.S. national parks have few major predators - and if you camp regularly, you probably know how to protect yourself from bears. While rooftop tents have been around for a while, their popularity has surged in the last decade, largely due to the outdoor industry's greater visibility on Internet platforms like Ins.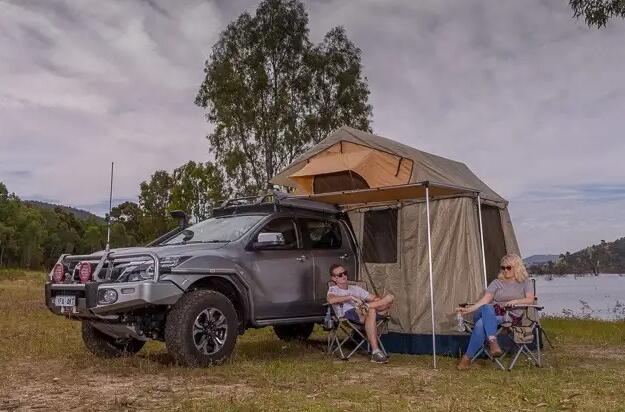 Differences between soft-top tents and hard-shell roof tents
Soft top tents are more similar to regular tents with an internal pole system and triangles, but they are usually made of heavier canvas. These tents are not as sexy as hardshell tents, but they are also more affordable (usually ranging in price from $1,000 to $5,000).
Soft-roof tent models are usually more affordable, but can be tricky to set up.
Hard-shell roof tents are usually made of fiberglass and synthetic siding. These are the stylish tents you might see on Ins-they fold into a compact (relatively) aerodynamic rectangle and start at about $2,600. All of the models we studied also had shredded memory foam mattresses inside.
While the convenience of a vehicle-mounted house seems appealing, rooftop tents have some serious drawbacks. First, most rooftop tents are very expensive. It's important to note that you do get something closer to an RV than a tent, and there is a high cost associated with making large units that can be safely attached to a car. But starting with a cheap soft-shell tent and a basic roof rack system will probably cost you at least $1,500. Once you start opting for a higher-end softshell tent like a hardshell, the cost increases dramatically.
Most hardshell roof tents pop up just like the tops of old VW campers.
Second, to successfully use a roof tent, you must have a third party roof rack system installed on your vehicle (some popular ones include Rhino-Rack, Thule or Yakima models). Why can't I use a factory-installed roof rack? At the lighter end of the spectrum, a roof tent weighs about 150 pounds - most pre-installed roof rails are graded to be exactly 150 pounds and no more. If you put a roof tent on a factory-installed roof rack, there is a good chance you will not only damage the rack, but your car as well.
Even with a good third party rack installed on your car, the weight of the tent will affect your car in many other ways, most notably by greatly reducing mileage (because of the added weight and increased drag). This weight also puts stress on the car's suspension, causing some systems to wear out more quickly. Finally, a roof tent raises the car's center of gravity, making it less safe and more likely to tip over. Of course, these conditions will vary depending on the car you use: in general, larger cars like trucks and SUVs are much better equipped to handle the load and the side effects of installing a roof tent.
You also need to factor in the amount of installation effort. Because these tents are so heavy, you'll need to gather a few friends to help you hoist one onto the roof of your vehicle. Installing and removing a roof tent also requires the use of clips and bolts, depending on the model - so once the tent is on the car, you may not want to remove it for months. In fact, if you use your car a lot for commuting, you may want to put the rooftop tent on a car that is used less frequently.
Finally, owners report that using a rooftop tent every night can be a bit difficult. You will need to park on a perfectly level surface before setting up camp, as parking on uneven terrain can lead to sleepless nights. On top of that, people are frustrated by the noise of wind or rain (since the tent is higher in the air) and it's annoying to climb down a ladder to the bathroom in the dark at night. Also, people we talked to about pets reported that getting dogs into tents can be difficult, especially if the dogs are not good at climbing ladders.
Is there a reason to buy a rooftop tent?
For some people, yes: A rooftop tent allows you to sleep anywhere - in parking lots and on the side of the road, for example - and is more like an RV than a tent in terms of functionality. So if you're a land-based expert, then a rooftop tent may still be the right choice for you. However, we recommend that you find a good dealer in your area who can help you customize your rig and provide some ideas about the right tent. Since most rooftop tents are sold through dealers, this method will be the easiest way to get both expert advice and a good setup. If you want to try a rooftop tent, we recommend looking at the latest rooftop tents from Sunday Campers to find the right model for you.