Jun. 25, 2022
For most of us camping lovers, a weekend under canvas delivers everything we could possibly want and need out of time in the wild. But that's not always the case, and there's a good chance that at some point or other you're camping experience hasn't been the joyous event that you'd hoped for. Perhaps you ended up in a crowded campground with late night noisy neighbours to the right and neighbours to the left that wake up before everyone else?
Now picture escaping the chaotic rhythm of the city. Turning into a forest road. Getting some off-road driving in. Setting up the campfire. Falling asleep in your rooftop tent under the stars. Bonus: there is no one around you. Does the wild call out to you as it calls out to us? Then you're ready for a fully off-grid weekend away or even a full vacation with a rooftop tent and all.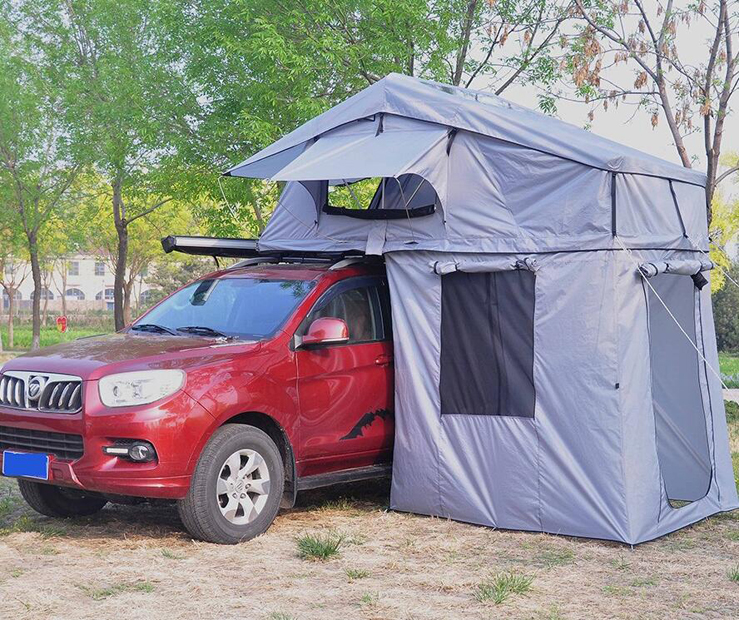 The pros of rooftop tent camping
● Greater comfort and epic views – rooftop tents beat ground tents in terms of comfort. Most rooftop tents come with a memory foam mattress that guarantees good rest (we also like to pack good quality pillows, cozy blankets and twinkle lights). Perk: most rooftop tents have extra room to leave the sleeping bags inside so you don't have to carry them up and down every day. Being off the ground and multiple windows also gives you awesome panoramic views from the tent.
● Staying warm – camping on the ground works well on a dry, warm night. With the rooftop tent, being elevated above the ground keeps you considerably warmer at night in any given temperature since the floor of the tent doesn't get cold at night, unlike the ground tent. Most overlanding vehicles and overland rentals come with an awning (think a tarp attached to the roof that opens up) that will let you enjoy a rainy day in comfort.
● Just chilling – Rooftop tents are great not just for getting a good night's sleep but also for some serious day time chilling. If it's hot and sunny, the tent will shelter you from the heat and if it's raining/snowing, keep you dry and warm. Our typical routine on a cloudy or rainy day is reading a favourite book followed by a cozy nap.
● Winter camping is actually fun – winter camping in the snow and freezing temperatures (think Lake Tahoe in in December) is only a good idea if you have the correct gear and a tri-layer rooftop tent that will keep you warm. A properly insulated rooftop tent coupled with a heater and appropriate sleeping bags are essential to enjoying winter wonderland adventures.
● Everyone will want to talk to you – rooftop tent camping and overlanding is still a relatively new way to travel so be prepared for everyone to come wonder what that thing on your roof is. During our overlanding trips, we always get approached with questions about our rooftop tent and we're made wonderful friends from around the world thanks to our camping set-up.
● Plan your itinerary without limitations of campground booking – with overlanding you no longer depend on organized campgrounds, you have the freedom to plan your trip around epic sights you want to see, not campground's availability along the route. Almost every National Park in the US is surrounded by a National Forest where you can camp for free (dispersed camping for the win!)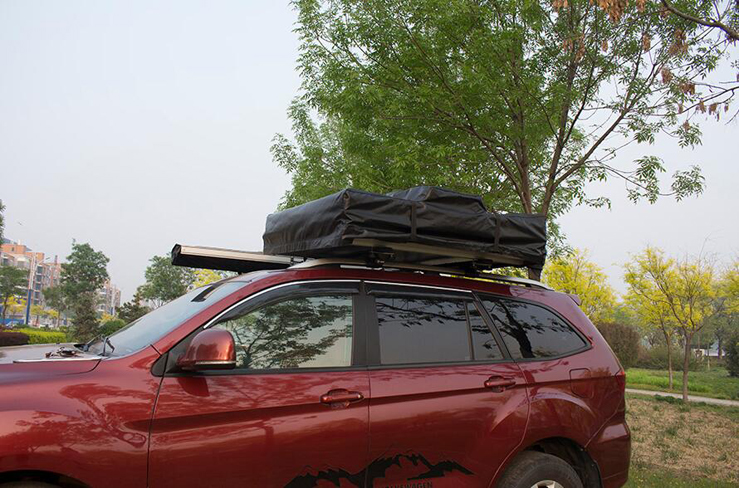 Car camping should be easy and enjoyable. Camping is a fantastic way to spend the weekend, but it is also something everyone should be doing a regular basis for their physical and mental well-being. Being outdoors has incredible benefits – reducing stress and anxiety, getting better sleep, breathing fresh air and getting away from all the screens. And with the added freedom of hitting the road (or the dirt track!) with a tent on top of your car heightens the benefits even further.
Top 3 tips for your first overlanding trip:
1. Don't rush
Once you get away from paved roads, relying on maps can become difficult. The maps may show a short distance of 40 miles to your next destination but you never want to rush and drive fast on dirt and unpaved roads. That's not a bad thing! Most overlanding routes offer incredible scenic beauty – in some places you will be breezing at 30 miles an hour and in some places you will want to make stops every 10 minutes and take in the scenery. Always leave plenty of time to get to your next destination and plan to arrive before dark to set up camp.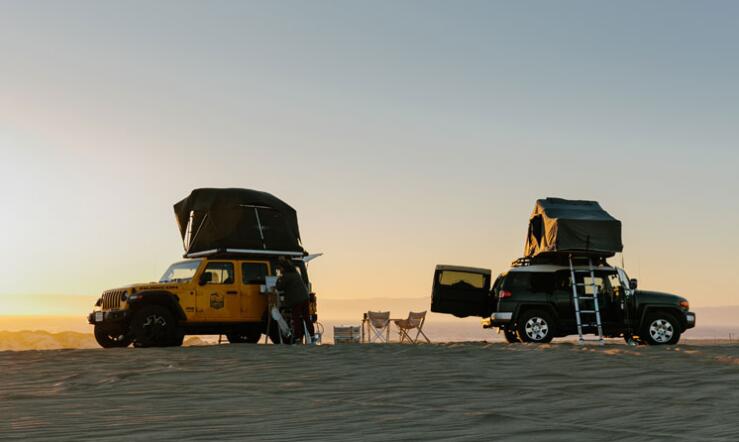 2. Plan your route before you leave
If you're venturing out on your own and especially into a new place, plan the route ahead of time – it's easier to plan at home with internet than with fading daylight in an unknown area. If overlanding is new to you then opt for a rental company who will do all the route planning and itineraries for you.
3. Bring your sense of adventure
It doesn't take up much space! Overlanding is all about the journey, not the destination. You might (and probably will) run into fun obstacles like crossing a shallow river or driving on a bumpy gravel road – embrace it and enjoy every moment – you will be back to city life in no time and will be missing those wild outdoor moments where the only traffic you see is a bunch of elks feeding on grass.
For more information, take a look at https://www.sundaycampers.com/.