Sep. 30, 2022
Camping has evolved from, "roughing it", with little comfort and amenities to being able to sleep comfortably throughout the night while powering lights, refrigerated coolers, and much more.
Thanks to this innovation, we as campers now have numerous options for how we want to camp. Depending on an individual's lifestyle this can vary quite a bit. Whether it be a roof top tent, a truck tent, or a ground tent, each option carries its own set of pros and cons!
We are going to dig deeper into these major differences and discuss if they are worth buying so you can make the best decision for yourself! This is my unbiased advice from my personal experiences and knowledge around the topic.
Ground Tents
This is the most common tent you will see and probably the one you grew up camping in as a kid, it's a true classic. Ground tents forgo the flashy allure that these other tents have, yet still do the basic job of providing shelter and a place to sleep.
There is no question, if you're on a budget this will be the best option for you. Since ground tents are the most popular among these three options, the different styles and brands of tents are pretty much limitless.
Even though you're very familiar with ground tents, let's compare them head on to roof top tents and truck tents to see how they fare.
Ground Tent Pros
● They are a cost-effective option. Far cheaper than any roof top tent you can find.
● You don't need a specific vehicle or added accessories to mount them to your vehicle. All you need for a ground tent is enough space in your vehicle to pack it along with all of your gear.
● The setup process for a ground tent is very straight forward. You can also walk inside the tent with a fair amount of headroom left to spare.
● You have the freedom to leave camp and keep the tent placed where it is so it "reserves" your campsite in a way. This is a huge perk that both a RTT and truck tent can not do.
● Ground tents can be much more spacious than the other options. At times, you can squeeze a blow-up mattress in the tent as well as some cots with room left to spare.
● They are super easy to store and take up a fraction of the space a RTT does. They also weigh far less than a RTT too!
Ground Tent Cons
● Ground tents are not the best option for winter camping. The fabric tends to be thinner than a RTT's would be. If it rains water can pool up on the ground where your tent is set up as well.
● A ground tent will get much dirtier than a RTT or truck tent. It does not have the advantage of being off the ground.
● This does depend a bit on the brand of a tent and how you treat it but overall I would say they are less durable than a RTT. The flimsy poles and thin fabric are likely to brake and wither away over time. It also depends a lot on how frequent you go camping. Ground tents can last you 20 years if you only go camping once every couple of years.
● Finding a flat campsite is a must for ground tents. If you stick to designated campgrounds then this isn't much of a concern, but for dispersed campers, this can make finding a campsite extremely difficult.
● Ground tents are probably the least comfortable option compared to the other two because it does not provide a perfectly flat surface or a built-in mattress pad.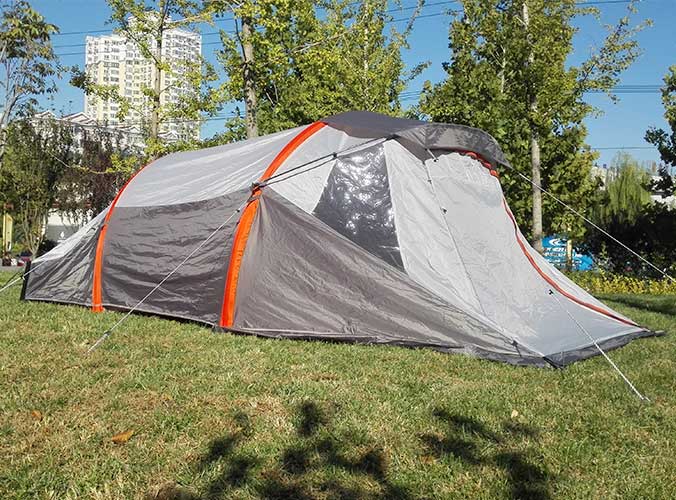 Are ground tents worth it?
Unlike truck tents or roof top tents, there isn't much to debate here. All you have to consider is how much you will actually go camping.
If you don't think you will camp more than a handful of times, then just borrow a tent from a friend or family member. Just about everyone owns a classic ground tent since they are so cheap and require very little effort to store inside the garage or shed.
I think everyone should have a ground tent. I encourage anyone and everyone to camp at least once a summer because some of my favorite memories growing up were made while on a camping trip with my friends and family.
Roof Top Tents
Roof top tents have skyrocketed in popularity in the last decade even though they have been around for well over 50 years in areas of the world like Australia, Africa, and South America.
This trend has proved to be more than a fad. Roof top tents are the most luxurious tent option you can get without stepping into the RV or camper trailer space.
You will find that roof top tents cost anywhere from $1,000 to over $5,000. Roof top tents (RTTs) provide added comfort, cleanliness, durability, and a simple set up process.
These added perks make it no surprise why they are continuing to grow in popularity. However, they aren't for every camper.
Roof Top Tent Pros
● Cleanliness and comfort are both pillars for making roof top tents as popular as they are. Unlike a truck tent, RTTs come with a mattress pad inside the tent.
● The setup process is very straight forward once the tent is mounted to the vehicle. Set up time is much faster than almost any ground tent and also way cleaner. For hardshell RTTs, the setup process can be as fast as just 60 seconds from start to finish.
● Being off the ground again gives you that added sense of safety. RTTs sit much higher in the air than truck tents do. This allows for scenic views and a truly unique camping experience that you can't find elsewhere.
● RTTs have a wide selection of styles, colors, designs, and features that cater to a wide array of consumers. You will have no problem finding the perfect tent to fit your needs whether it be for all-seasons, extremely slim, lightweight, or cost-efficient.
● RTTs are very durable with thicker canvas material than ground or truck tents. Being off the ground also makes them less likely to have tears or punctures. They are perfect for winter camping, especially when you look into the hardshell models.
● Since your tent is stored on the roof of your vehicle, you are able to pack less equipment that frees up space in your car. I personally find this to be a huge perk because it is so shocking just how much gear you bring for a camping trip.
Roof Top Tent Cons
● The price of a RTT is significant. As I said earlier, to simply enter this market will be at least $1,000. This makes it feel not as inclusive for all since camping is a relatively inexpensive hobby.
● Like a truck tent, you must break down the RTT before bouncing from location to location. Keep in mind the tent break down and setup takes roughly 5 minutes for my softshell foldable model. This will be much less of a factor with a hardshell model, but none the less it is something to be considered.
● This is true for all RTTs and that is the ladder. Using the ladder can be very difficult for families and dog owners. Getting a large dog into a RTT takes either skill or muscle. The ladder is also just a nuisance when you need to quickly grab something that isn't in the tent (especially at night).
● The largest roof top tents can only fit five people at the very most. Adding an annex can double that sleeping area and it pretty much serves as a ground tent that attaches directly to the RTT. I think the sizing for RTTs is even more flexible than a truck tent.
● Certain vehicles are much better suited for a RTT than others. Smaller sedans are not made with the intention of hauling a 100-200 pound tent on top of the roof. Even so, there is a select group of RTTs that can be safely used on any vehicle type.
● You need to buy a roof rack system for your vehicle. This will allow you to safely mount your vehicle without exceeding any weight limits. A basic set of crossbars and tower systems will cost you roughly $400 on top of the already pricey RTT.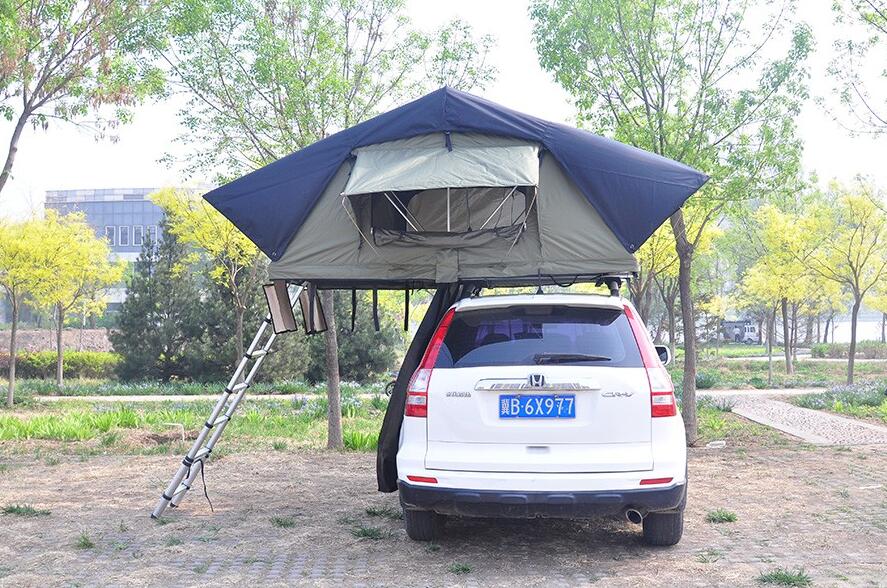 Are roof top tents worth it?
For large families, the elderly, or people that own very large dogs, owning a roof top tent may not be right for you. You may find that the cons outweigh the perks brought by a RTT which is completely understandable.
However, if you wanted to find a solution to any problem there is always a way to make it work! For most campers and overlanders, a roof top tent is the perfect middle ground between a regular tent and a trailer.
While RTTs are expensive when compared to truck tents and ground tents, they are leaps and bounds less expensive than a teardrop trailer. Yet, you still get many perks such as staying clean, comfortable, and off the ground!
In my personal experience as a 25-year-old male, I have found the RTT to be a fantastic purchase. I recommend it to anyone that can afford it and believe you will find immense value as an owner.
Truck Tents
Truck tents are catering to a more specific market than either a ground tent or a roof top tent would. However, so many hunters, adventurers, and campers own trucks that it is still a very wide segment.
Truck tents sit in the bed of a truck and are secured by straps. They can be fully waterproof and are typically made from the same material in a ground tent.
You can find truck tents ranging in price from $200 – $500. The selection is more limited than the ground tent or even the roof top tent market since it is such a segmented market. With that said, there are still plenty of options to fit all truck sizes and be equipped for all-season camping.
Truck Tent Pros
● You stay much cleaner in a truck tent since it is placed inside the bed, rather than a dirt floor. This prevents you from tracking in sand, dirt, and mud.
● Being off the ground gives you peace of mind especially in areas with critters and creepy crawlies!
● Truck tents provide a perfectly flat sleeping area. The ground has rocks and is rarely flat. This is much more comfortable to sleep on even if you use a blow-up mattress.
● It is likely to last longer than a ground tent because it will avoid sharp sticks and rocks that would usually poke holes or tear a ground tent.
● You can buy truck tent accessories that come with an awning or attachment for an added sleeping area. This is handy for a spacious area to eat, relax, and or fit some extra campers.
● It is much cheaper than a camper shell which is a great camping option for truck owners. Simply throwing a mattress in the bed of a truck is all it takes when you own a camper shell. However, camper shells are not cheap and some people do not like the look or permanent utility of them. A truck tent is the perfect middle ground since it is both less expensive and temporary.
● Overall, it looks cooler than a ground tent. Whether this plays into your buying decision or not is doubtful. However, from my first-hand experiences, you are way more anxious to camp more when you have a really fun and enjoyable tent to use.
Truck Tent Cons
● While truck tents are cheaper than a camper shell, they a priced a bit higher than your average ground tent. You can buy some very fancy ground tents but from a general standpoint, truck tents are more expensive.
● You do have limited sizing options when it comes to truck tents. You can only sleep as many people as you can fit in the bed of the truck. For smaller families, this isn't much of an issue, but for larger parties, you won't be able to accommodate everyone in the truck tent.
● To get in and out of the tent you need to climb into the truck bed. This is easier said than done for some like small children. You will likely want to use a cooler or buy a designated stool to help you get in and out of the tent.
● Setting up a truck tent typically takes a bit longer than a ground tent. You need to make sure it fits snug and is probably placed in all four corners of the truck bed. If the truck tent has a floor, you will need to empty the entire truck bed before setting up the tent as well.
● Mobility can be a concern if you want to camp in multiple locations for an extended camping trip. You must break down the tent in order to move your vehicle. More times than not, you will find this frustrating especially when the next destination isn't very far away.
Are truck tents worth it?
I do think there is a large market for people who own trucks that find the cleanliness and comfort well worth all of the slight downsides that come with this tent option.
I really like the look of the truck tents and find many similarities in them to a roof top tent, even for a fraction of the price.
Should you buy a ground tent, a roof top tent, or a truck tent?
I want to answer this question as quickly and straight forward as possible. You probably own a ground tent already and want to know if either of the other options is worth upgrading to. If you don't own a ground tent, don't worry about it being worth the money since they are so affordable.
If you own a truck and are nervous to splurge thousands of dollars on a RTT, buying a truck tent is a fair compromise. You get some of the benefits such as comfort and cleanliness for a fraction of the cost. If you find yourself really enjoying that style of camping, then I would say it is safe to make the jump to a RTT.
The decision to buy a RTT is not an easy one, trust me I've been there. What sold me on it was the fact that it is truly the most luxurious camping style that is not an RV or trailer.
In a worst-case scenario, if you find that you absolutely hate your RTT, you can always sell it for a substantial amount back of what you paid for it. They hold there value surprisingly well and this isn't an uncommon practice.
Final words
I hope this article helped answer some questions you may have had between which tent is best for your lifestyle!