Oct. 24, 2022
What could be more fun than dreaming about your upcoming holiday? If you like camping, the answer to that question is a holiday in a Sunday Campers rooftop tent. Rooftop tents are becoming increasingly popular. You always have a place to sleep, and you can go anywhere without needing much camping space. Rooftop tents are ideal for travelling, going to a festival, or a quick stopover on your way to a holiday destination. Rooftop tents come in various sizes to accommodate any situation, whether travelling alone, with your partner or with your children.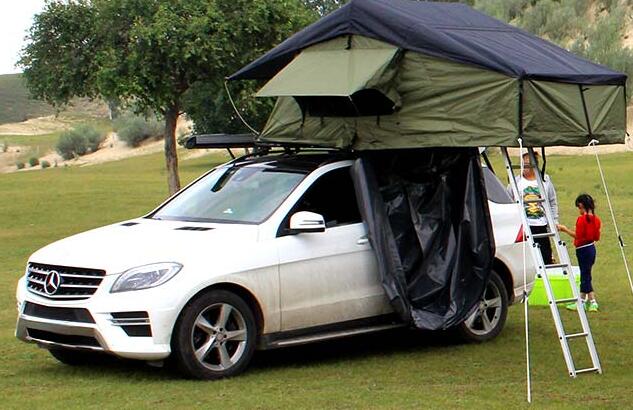 Preparing your holiday
You have decided to go on holiday with a Sunday Campers rooftop tent for the first time this year. After the tent has been delivered to your home, you assemble it for the first time. We have written clear and easy-to-follow instructions for each model. Mount the assembled rooftop tent on your roof rack. You do not have to be particularly handy for this. Anyone can easily install the rooftop tent. Because you don't transport the tent in your trunk, you have more space for your luggage. Pack it up, and you're ready to go. Now it's time to pick a holiday destination! As far as the Sunday Campers rooftop tent is concerned, it doesn't matter. Your rooftop tent will always provide a safe and comfortable place to sleep, no matter the terrain. High and dry on the roof of your car.
On the road with a rooftop tent
Sunday Campers rooftop tents are lightweight, so they have a minimal effect on your car's handling. We recommend not driving faster than 120 km/h with the rooftop tent installed. Please check the speed limit abroad in advance, as it may vary from country to country. You don't need much camping space for a stopover along the way. The rooftop tent can be unfolded in almost no time, which is nice after a long journey. Inflate your air mattress, and your sleeping place is ready for use. You can also opt for a fixed mattress with a thickness of 5 to 7 cm, which you can leave in the folded up roof tent while driving. One less thing to worry about before getting back on the road!
Set up the rooftop tent at your destination
Once you have reached your destination, you can unfold the rooftop tent in two minutes. It can be inflated in 10 minutes using the supplied mobile compressor. Make it a comfortable, cosy place to sleep with your mattresses and bedding. Enjoy the beautiful view from your bed through the four large windows on all sides of the tent. They can be opened completely and are fitted with insect mesh. Simply close the ventilation openings if it gets a little chilly or if you want more privacy in your roof tent. If you are staying at a fixed location for a longer time, you may want to consider adding a matching awning. The awning is attached to your rooftop tent, offering extra protection from the rain or sun.
Breaking camp for the return journey & and home
When your holiday is over, the rooftop tent can be folded away again in minutes. Make sure that the tent fabric is dry. If this is not possible, allow the tent to dry thoroughly when you get home. We recommend cleaning the tent fabric before storing the rooftop tent for extended periods. Because a rooftop tent's canvas is virtually the same as that of a normal tent, you can follow these instructions. Once clean and dry, fold the rooftop tent and unscrew it from the roof racks. Due to its compact size, the rooftop tent can often be easily stored in a dry place in your own home or storage room.
Fill in the car checker and see which rooftop tent fits your car. All models are generally available from stock. However, we recommend not waiting too long to order, so you can be sure to go on holiday with a Sunday Campers rooftop tent this year.