Feb. 15, 2023
When it comes to camping, choosing the right tent is essential for a comfortable and enjoyable experience. One of the decisions you'll have to make is whether to go for a traditional tent or a batwing tent. While both tents serve the same purpose, they have significant differences that can affect your camping experience.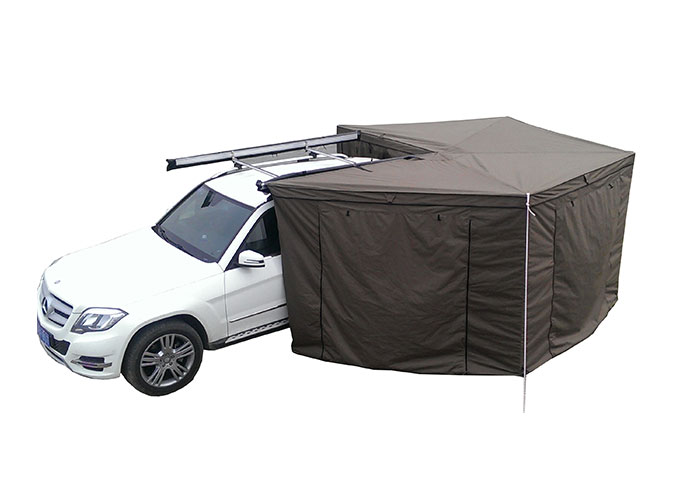 In This Article, We Will Explore the Differences Between Batwing Tents and Traditional Tents.
Design and Shape
The most obvious difference between a batwing tent and a traditional tent is their design and shape. A traditional tent typically has a dome shape or an A-frame shape, while a batwing tent has a more unique shape. A batwing tent is usually triangular, and it's designed to be set up as an awning that provides shade and shelter from the sun and rain.
Space and Size
Traditional tents come in various sizes, from small one-person tents to large family-sized tents. The size of a traditional tent is usually determined by the number of people it can accommodate comfortably. On the other hand, batwing tents are generally smaller than traditional tents, and they're designed to provide a covered outdoor living space. They're not meant for sleeping, but rather for sitting and relaxing, cooking, or storing camping gear. Batwing tents typically provide enough space for a small group of people to gather under the awning.
Ventilation
One of the most significant differences between a batwing tent and a traditional tent is ventilation. Traditional tents have a closed design that provides privacy and protection from the elements. They're usually equipped with windows and vents to allow air circulation, but the level of ventilation can be limited. In contrast, batwing tents have an open-air design that provides excellent ventilation. They allow air to flow freely, providing a cool and comfortable space to relax.
Set up
Traditional tents can take a considerable amount of time and effort to set up. They usually come with poles, stakes, and guy lines that need to be assembled correctly. In contrast, batwing tents are designed to be easy to set up and take down. They come with poles or frames that are easy to assemble, and they can be set up in just a few minutes. Additionally, batwing tents can be set up in various configurations, providing flexibility in how you use them.
Weight and Portability
Traditional tents can be heavy and bulky, making them difficult to transport, especially if you're backpacking or hiking. They usually come with carrying bags, but they can still be challenging to carry around. Batwing tents, on the other hand, are generally lightweight and easy to transport. They can be folded or rolled up and stored in small spaces, making them ideal for camping trips where you need to pack light.
Versatility
Traditional tents are versatile and can be used for various purposes, such as camping, backpacking, or mountaineering. They provide shelter and protection from the elements, making them an essential piece of camping gear. In contrast, batwing tents are designed for specific purposes, such as providing shade and shelter from the sun and rain. They're not meant for sleeping, and they can't provide the same level of protection from the elements as a traditional tent.
Price
The price of a traditional tent can vary depending on the size, materials, and features. However, they can be more expensive than batwing tents, especially if you're looking for a high-quality, durable tent that can withstand various weather conditions. Batwing tents are generally more affordable and can provide excellent value for money.
If you want to know more information about batwing tents, please contact us. We will provide professional answers.