Dec. 02, 2022
If you don't know whether to choose a hard shell roof tent or a soft shell roof tent, this article summarizes their differences and their respective advantages, and I hope it will help you.
Basics

In general, rooftop tents are more durable and luxurious than ground tents. They keep you off the ground and guarantee a flat sleeping surface. They also minimize the impact of camping and provide privacy that ground tents can't offer.
Let's start with the basics. A hard shell roof tent is a hard shell, usually made of plastic, fiberglass or aluminum. They travel like a roof box, but open up into a fabric tent with a hard shell as the roof. On the other hand, a soft shell roof tent is similar to a traditional ground tent that sits on top of a metal frame that extends beyond the roof .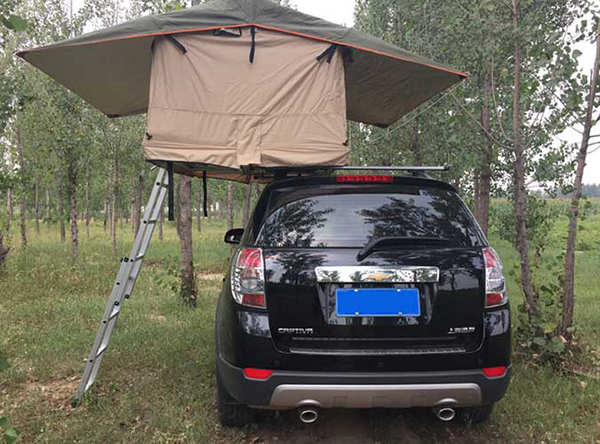 Softshell Roof Tents
Softshell roof tents are the original roofing model. They are made of a full canvas or nylon body and are attached to a platform frame that hangs from the roof of the vehicle.
Advantages
Maximizes Space
Softshell tents are the most spacious option. The added space makes softshell tents ideal for family camping trips, keeping pets company, and providing room to store extra equipment. If you encounter inclement weather, the added space gives you an area to take shelter. While hard shell tents are limited to the roof area, softshell tents extend beyond the roof and accessories such as awnings or attachments can be added for more space.
Adding a Covered Area
Because softshell tents hang on the side of the roof, they also provide a covered area underneath the tent for cooking and relaxing. Especially in desert climates, this shaded area is a huge added benefit. The opportunity to add awnings and accessories makes softshell tents perfect for longer trips for larger groups.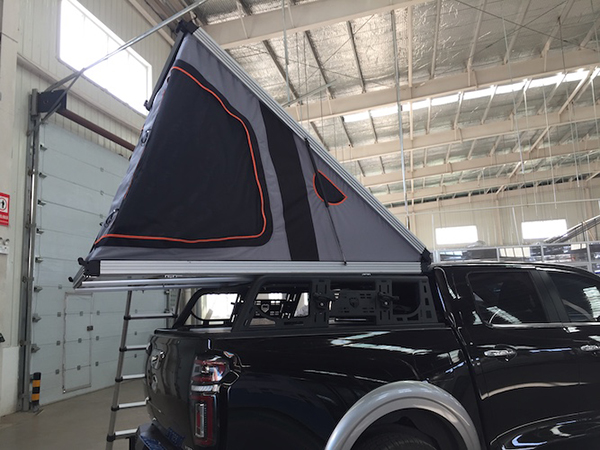 Hard Shell Roof Tent
This new rooftop tent looks like a roof box, but can be raised as a wedge or box tent with fabric tent walls and a hard shell roof.
Advantages
Easy setup
One of the most obvious advantages of the hardshell roof tent is the set-up time. A hardshell roof tent can be set up in less than a minute, thanks to the pop-up or lift mechanism that most people use. Once the body of the tent pops up, it simply locks inside. This makes hardshell tents ideal for solo travelers.
Rooftop storage
You can keep your bedding inside the enclosed hardshell tent to avoid having to set up every time you camp.
Quieter
Hardshell tents are quieter in strong storms because their sturdy design allows for less rustling of the canvas. The insulated hardshell roof design inside the roof also reduces the sound of rain as it also better absorbs the sound of falling water drops. This is especially useful when you're trying to sleep at night in less-than-ideal weather conditions!
Durability in bad weather
The top shell of a hardshell tent offers more protection and durability than an all-cloth tent. Naturally, aluminum and plastic are more waterproof than nylon or canvas, which makes the roof section of these tents better suited for wet or snowy climates. It also protects against thick brush and branches, debris, harsh elements, and even theft of items you might leave inside.
Our conclusion
Both soft shell roof tents and hard shell roof tents are excellent choices for outdoor camping. You can choose the right roof tent according to the characteristics of your vehicle and your specific needs. If you still don't know which tent to choose, please contact us to choose the right roof tent for you.