Feb. 11, 2022
If you're a Toyota Hilux owner, then we know you're a true off-road enthusiast and outdoorsman. But road trips with friends, family or travel groups are much easier when you have the perfect build and modifications to fit your gear.
Many times, you will have to carry a lot of gear or demanding cargo. This will be easier if you have the perfect crossbars, platform roof racks or load bed racks for your Hilux.
In other cases, if you want to add adventure by camping and landing on land, then you must look for the right roof tent. This way, your trip will help you be in the middle of nature and feel the freedom and connection that comes from the outdoors.
If you're ready to travel with more ease, comfort and sophistication, then you've come to the right place. When you try to modify your ute with the vast array of options available on the market, you may feel overwhelmed.
As an expert in the off-road and overland industry, these are frankly the highest quality, most durable and reliable builds you can find.
1. Rain, Wind and Heat Resistant Roof Tent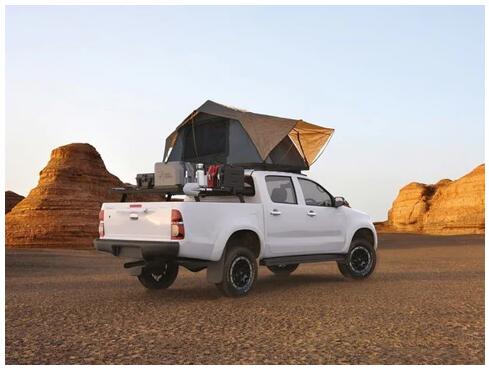 This rooftop tent is perfect for your Hilux, a quality tent for rain, wind and heat protection, making it a 3-season tent. It is a soft shell roof tent and is a more affordable option. However, it is very sturdy and of course, you will stay dry and protected with the help of rain flies.
It's the lightest softshell on the market, weighing only 43 kg, and is very easy to mount on a roof rack, crossbar or bed frame, and won't affect your fuel economy. It can comfortably accommodate 2 adults and 1 child or pet with a mattress over 6 cm thick.
Built to last all the way from South Africa. Tested on the extreme conditions of South African soil and trails, this is a tent that can be considered for many of the rugged trails found in Australia.
2. Flip-Top Roof Tent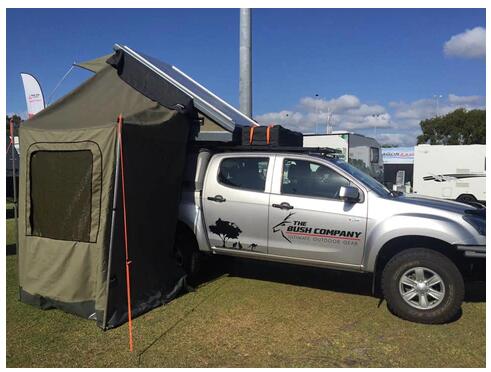 The flip-top roof tent is completely innovative and has excellent features. It brings together our many years of experience in aluminium manufacturing. In addition, Sunday Campers has hands-on experience with outdoor and camping enthusiasts, which makes them more reliable in providing durable and high-quality products.
It can be easily set up in 90 seconds and has many unique features that set it apart.
It is completely modular, making it easier to install the accessories you need. It has a fully welded, lightweight alloy frame with a high-quality powder-coated finish. It has two layers of 300g poly-cotton ripstop mold and mildew-resistant canvas on the tent body to help reduce condensation.
In addition, it comes with a pre-wired internal LED light on the roof and two power outlet boxes inside the tent with dual USB and CIG sockets. It also has 6 storage pockets on the inside of the roof, 2 large pockets on each side of the foot end and a convenient water bottle pocket on each side of the head end.
3. Hardshell Roof Top Tent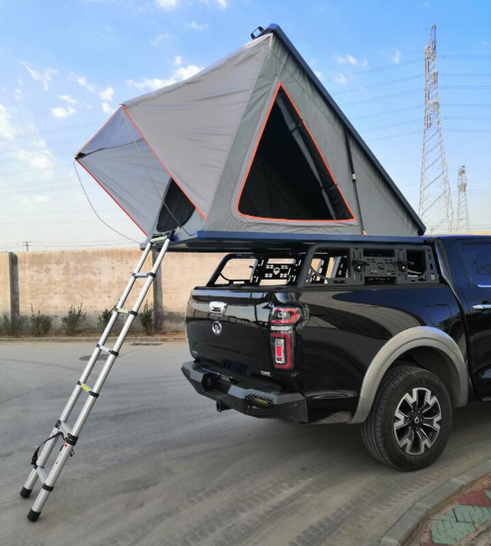 The Stealth is quite possibly one of the best, if not the best hardshell roof tent on the market. It is made of aluminum, which means the shell is stronger, more robust and better constructed than other hardtop tents on the market.
The hardshell roof tent continues to outperform many of its competitors, and it has one of the simplest yet most manageable designs. This is a 4-season camping tent that can withstand all the weather conditions you may encounter.
The Hardshell Roof Top Tent provides a comfortable sleeping footprint for two adults and is easy to open for just one person. Plus, the whole process takes only seconds to complete.
4. Roof Tent with Accessories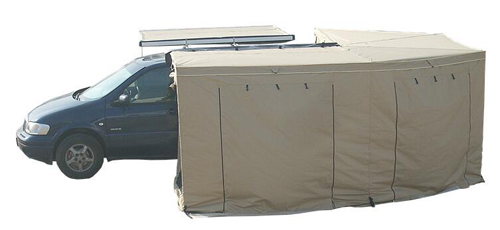 Compared to other soft shell roof tents, it stands out with its features. It offers the best quality for backcountry enthusiasts and outdoor lovers.
It is a 4-season camping tent that can comfortably accommodate 3-4 people (3 people on the tent and 1 adult in the attachment).
It comes with an anti-condensation pad, 2 display bags, LED lights, 1 utility net under the bed, entrance window, skylight, etc. In addition, it is equipped with a special skylight on the upper side of the tent that provides a 270 degree view inside the annex.
In addition, it comes with a 1-year warranty to ensure its durability, reliability and superior quality.
Sunday Campers is a professional rooftop tent manufacturer, if you need a quality rooftop tent, please feel free to contact us.