Oct. 10, 2023
Rooftop tent camping is an adventure enthusiast's dream come true. It offers a unique and exciting way to experience the great outdoors. Whether you're a seasoned camper or a novice looking to explore the world of rooftop tent camping, we've got you covered. In this comprehensive guide, we'll delve into everything you need to know about rooftop tent camping to ensure you have a memorable and hassle-free experience.
Why Rooftop Tent Camping?
Rooftop tent camping has gained immense popularity in recent years, and for good reason. It combines the best of both worlds - the comfort of a cozy bed and the thrill of camping in the wild. Here are some compelling reasons why rooftop tent camping is the way to go:
1. Convenience and Comfort
One of the primary advantages of rooftop tent camping is the convenience it offers. No more struggling with setting up a ground tent or worrying about uneven terrain. Rooftop tents can be easily mounted on your vehicle's roof rack, providing a comfortable and secure sleeping space.
2. Safety
Rooftop tents provide an added layer of safety from wildlife and unexpected weather conditions. You'll have peace of mind knowing you're elevated from the ground, away from potential critters.
3. Spectacular Views
Imagine waking up to breathtaking sunrise views or stargazing from the comfort of your rooftop tent. Rooftop camping allows you to enjoy incredible vistas right from your sleeping quarters.
4. Quick Setup
Setting up a rooftop tent is a breeze, taking just a few minutes. This means more time for relaxation and exploration.
Choosing the Right Rooftop Tent
Selecting the perfect rooftop tent is crucial for a memorable camping experience. Consider the following factors:
1. Tent Type
There are various types of rooftop tents available, including hardshell and softshell tents. Hardshell tents are more durable and weather-resistant, while softshell tents are lighter and easier to install.
2. Size and Capacity
Determine how many people will be using the tent. Rooftop tents come in various sizes, from solo to family-sized options.
3. Material and Quality
Invest in a high-quality rooftop tent made of durable materials. Look for waterproof and UV-resistant fabrics to ensure longevity.
4. Setup Mechanism
Rooftop tents can have different setup mechanisms, such as pop-up or fold-out designs. Choose one that suits your preferences and skill level.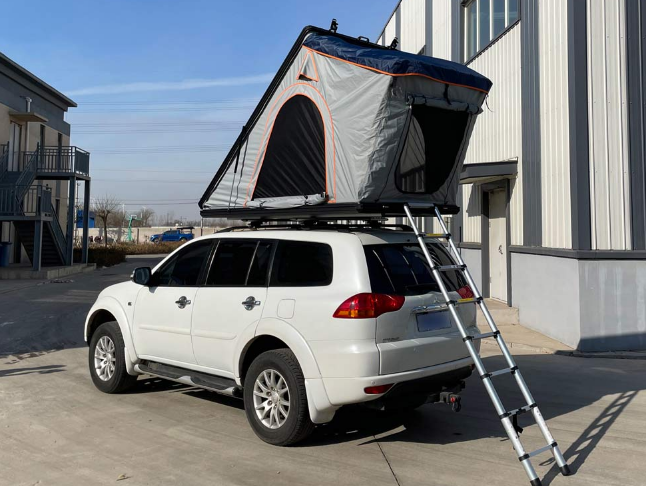 New Style Custom Outdoor 4wd Offroad Camping Aluminium Hard Shell Rooftop Tent
Essential Gear and Accessories
To make your rooftop tent camping experience complete, you'll need some essential gear and accessories. Here's a checklist to get you started:
1. Roof Rack
Ensure your vehicle has a sturdy roof rack that can support the weight of the rooftop tent.
2. Bedding
Pack comfortable sleeping bags, pillows, and blankets for a restful night's sleep.
3. Lighting
Invest in portable LED lanterns or string lights to illuminate your campsite at night.
4. Cooking Equipment
Bring along a portable stove, cookware, and utensils for preparing meals on the go.
5. Clothing
Pack appropriate clothing for varying weather conditions, including layers, rain gear, and warm clothing for colder nights.
Safety Tips for Rooftop Tent Camping
Safety is paramount when embarking on a rooftop tent camping adventure. Follow these tips to ensure a secure and enjoyable experience:
1. Check Your Equipment
Regularly inspect your rooftop tent, roof rack, and other camping gear to ensure everything is in good working order.
2. Campground Selection
Choose a safe and designated camping spot. Verify local regulations and always respect the environment.
3. Secure Your Tent
Double-check that your rooftop tent is properly secured to the roof rack before hitting the road.
4. Weather Awareness
Stay informed about the weather conditions at your camping destination and be prepared for any changes.
Conclusion
Rooftop tent camping offers a unique and unforgettable way to connect with nature. By following these tips and guidelines, you can embark on a safe and exciting adventure that will leave you with lasting memories. So, gear up, choose your destination, and get ready to elevate your camping experience to new heights!