Nov. 17, 2021
An awning is not only for camping and mobile living, but for any time you want to stay comfortable outdoors. It can also provide shade for outdoor businesses such as food trailers, picnics, ball games and even outdoor workplaces.
Having a shady place to rest or shelter from the rain is vital for a comfortable camping or overland trip. Awnings provide the perfect source of shade.
Our favorite designs are easy to install, retractable, and can be assembled by one person in a matter of minutes.
Some of the more advanced shelters feature insect screens and floors that provide the perfect place to rest in humid and sweltering weather.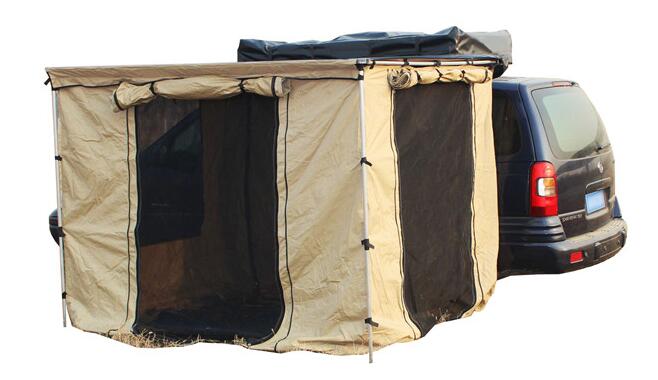 Car camping awnings
An awning is a form of shade that you can attach to your vehicle to provide shade and block the sun's damaging UVA and UVB rays. Awnings come in many shapes and sizes. They also come in different assembly methods.
The best awnings will be UV protected and water resistant. They should be lightweight so that you can easily transpose them around. They should be easy to set up and take down.
Factors to consider
There are many key features to consider before purchasing an awning. The most obvious is compatibility with your vehicle. But there are other differentiating factors to consider as well.
Vehicle Compatibility
One of the most important aspects to consider before purchasing an awning is whether it will work with your type of vehicle. If your vehicle does not have a roof rack, there is no benefit to purchasing a retractable awning that attaches to the roof rack.
Some types of awnings have size restrictions, so they are only compatible with certain sizes of vehicles, such as small to medium-sized cars, SUVs or minivans. There are also Jeep awnings, which are only available for the Jeep brand.
Most portable car awnings require a place where they can be mounted, such as a roof rack. If your car does not have a frame, you will need to consider an awning that can stand freely or be attached to your liftgate or doors.
Materials for awnings
The type of material used for your awning will determine its performance as a source of shade and protection from UV rays and rain. It can also affect the longevity of the top.
Most camper awnings are made of fabrics such as nylon, polyester, cotton, canvas and fabric coated.
Nylon and polyester are the two most common choices of awning fabrics because they dry quickly and are durable and lightweight. These fabrics do an excellent job of keeping out water and shade, but they don't block heat.
Cotton and canvas are the standard tent fabrics because they provide good insulation, but they are heavier and more challenging to assemble. And they can be more difficult to transport.
Awning Weight
Your car awning should not weigh too much, as you will probably be carrying this equipment with you on many outdoor adventures.
The heavier it is, the more difficult it will be to place and remove it after each use. You may also need to do some additional fabrication to get enough support to keep the awning sturdy.
The awnings we have reviewed can be easily assembled by one person.
Awning Sizes
It's also helpful to know the size of your vehicle before you start buying a camper awning. You don't want to purchase a shelter that is too large or too small to accommodate your vehicle.
Use a tape measure to measure the exact height, width and length of the area of your car where you will be securing your awning. Keep these measurements close at hand as you browse the different tops for sale.
For SUVs, you want to find an awning that provides at least two feet of shade. Trucks need a larger top with at least 2.5 feet of clearance to provide shade.
If you're buying an awning to mount on your vehicle, you'll need to make sure it's the right length, usually 6-8.5 feet.
Awnings mounted on lift gates need to allow for proper clearance at the rear of the vehicle. There also needs to be room for the size of the gate itself and the vehicle. You may also need to worry about roof clearance, so take all of these measurements ahead of time.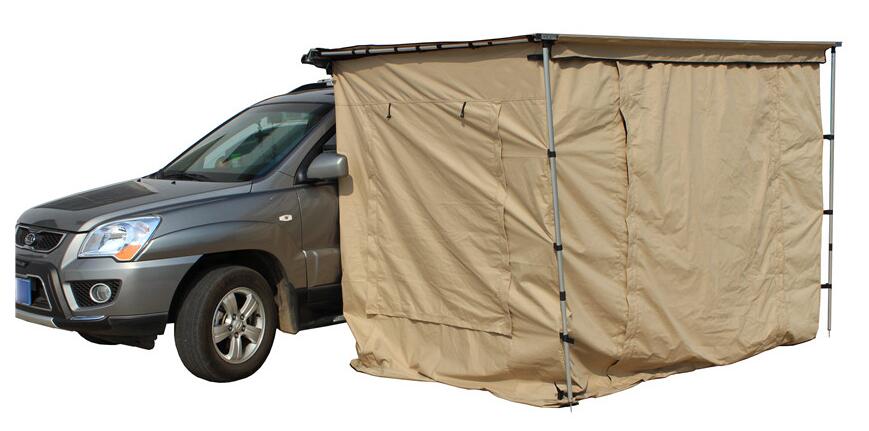 Protection from UV rays and inclement weather
An awning helps protect you from the sun and the elements. But a covering needs to do more than just keep the rain and sun away from you.
A good car awning has UV protection, which means it blocks UV rays from passing through the fabric. Some canopies have partial protection, while others are completely blocked.
The best thing about awnings is that they protect you from the sun and any inclement weather that decides to invade your time outdoors.
But not all awnings are created equal in terms of the type of protection they offer against the weather. Land-based awnings with open sides can still let water in if the wind is blowing in the right direction.
These will only keep you safe from water overhead. Consider awnings with rear panels or side panels, which offer more protection.
An improperly set up awning can damage the tent or even the vehicle. It increases the chances of failure, which means your trip could be ruined.
Look for awnings with stakes, elastic cords or tethers to keep your shelter safe in bad weather. And remember to use them! More than once we have been surprised by a sudden gust of wind.
You also need to consider the style of your roof. Flat roofs can collect water, causing them to lose weight and possibly leak or tear. Consider awnings with domed or sloped ceilings over the apartment.
As a trick, lower your support bars slightly below the roof so that rainwater can immediately slide off.
Vulnerability protection and accessories
Many awnings come with compatible accessories, such as extended tarps or enclosed screen chambers. If you plan to use your awning for years to come, be sure to keep accessories in mind.
Mosquitoes and unseen bugs are a major problem. For us, having a completely enclosed screening room is essential. It also provided us with a place to relax and cook food without having to repel flies.
If you camp a lot in the desert, shade protection may be higher on your priority list than defeating bugs.
Assembling a roof rack awning
Roof rack awnings are retractable. This means they can be rolled into a closed box and permanently secured to the side of the rack for the duration of your trip. These are especially convenient because you can leave them in the car during storage.
Roof rack awnings are assembled like this:
1. Pull open the protective awning bag
2. Fold the telescopic pole
3. Unfold the awning
4. Fix the telescopic pole
5. Use Velcro to fix the awning to the pole to form a tight fit
6. Connect the awning top corner tension cable to the ground
With decades of experience in roof tent making, we can customize your tent according to your design, drawings or samples. Contact us today with any new ideas to discuss how to build a great product.