Jul. 20, 2023
If you're considering buying a canvas bell tent, you've likely been drawn to its classic design, spaciousness, and versatility for camping and outdoor adventures. A canvas bell tent can provide a comfortable and unique camping experience, but before making your purchase, it's essential to understand its features, benefits, and considerations. In this ultimate bell tent buying guide, we'll explore the reasons to buy a canvas bell tent, factors to consider, and tips for finding the perfect one for your needs.

Why Buy a Canvas Bell Tent?
1. Classic Aesthetics:
Canvas bell tents have a timeless and classic appeal, reminiscent of traditional camping experiences. Their distinctive shape and natural canvas material create a cozy and inviting atmosphere.
2. Spacious and Comfortable:
Bell tents offer ample space for sleeping, lounging, and storing camping gear. Their high ceilings and vertical walls provide more headroom compared to dome-style tents, making them comfortable for standing and moving around inside.
3. Breathable and Climate-Controlled:
Canvas is a breathable material, allowing air to circulate inside the tent. This feature helps regulate the temperature and reduces condensation, enhancing comfort during warm and cool weather.
4. Durable and Long-Lasting:
High-quality canvas bell tents are durable and built to withstand various weather conditions. They are less prone to tearing or damage compared to some synthetic tents, making them a long-term investment.
5. Easy Setup:
Most bell tents are relatively easy to set up, especially with the help of a center pole and guy lines. They can be assembled by a single person or a small group with minimal effort.
6. Versatility:
Canvas bell tents are versatile and suitable for various outdoor activities, such as camping, glamping, backyard events, festivals, and even as semi-permanent accommodations.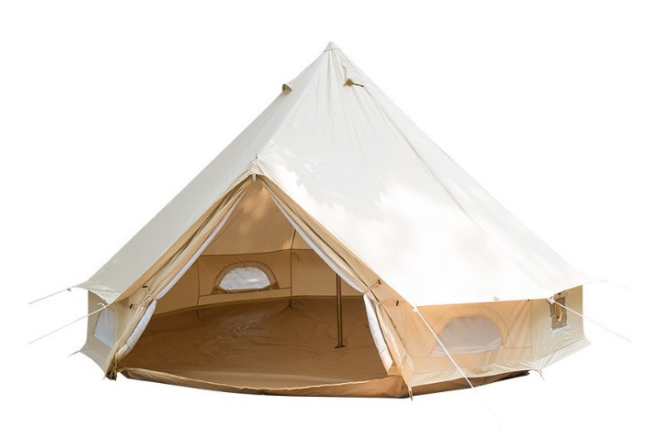 Factors to Consider When Buying a Canvas Bell Tent:
1. Size and Capacity:
Determine the number of occupants and the amount of gear you plan to accommodate inside the tent. Bell tents come in various sizes, from small 2-person tents to larger family-sized options.
2. Tent Height and Center Pole:
Check the height of the cotton canvas tent and the center pole. Higher tents offer more headroom, making it easier to move around inside. Additionally, a sturdy and reliable center pole is essential for stability and supporting the tent structure.
3. Canvas Material:
Consider the quality and weight of the canvas material. High-quality canvas is usually made from cotton or a cotton-polyester blend, offering durability and water resistance. Heavy-duty canvas provides better weather protection and longevity.
4. Waterproofing and Weather Resistance:
Ensure that the bell tent has been treated or coated for waterproofing. Look for features like reinforced stitching, taped seams, and a robust groundsheet to keep moisture out and enhance weather resistance.
5. Zippers and Closures:
Check the quality and durability of zippers and closures. Smooth-operating zippers and robust fasteners are essential for ease of use and longevity.
6. Ventilation and Windows:
Look for tents with multiple ventilation options, such as mesh windows and vents, to allow for better air circulation and reduce condensation.
7. Accessories and Extras:
Consider additional accessories that may come with the tent, such as a stove jack for using a wood-burning stove inside, interior pockets for storage, or a rain fly for added protection during heavy rainfall.
8. Portability and Weight:
Canvas bell tents can be heavier compared to synthetic tents. Consider the weight and portability if you plan to carry the tent to different camping locations.
Tips for Finding the Perfect Canvas Bell Tent:
1. Research Brands and Reviews:
Read reviews and research different bell tent brands to find reputable manufacturers known for their quality and customer satisfaction.
2. Check Warranty and Customer Support:
Look for tents with warranties and reliable customer support to address any issues or concerns that may arise after purchase.
3. Compare Prices and Features:
Compare prices and features of different bell tents to find the one that best fits your budget and requirements.
4. Consider the Setup Process:
If ease of setup is a priority, opt for a bell tent with a straightforward assembly process, as some designs may be more complex than others.
5. Evaluate the Long-Term Investment:
A canvas bell tent can be a long-term investment, so prioritize quality and durability over the lowest price.
In conclusion, buying a canvas bell tent can offer a unique and comfortable camping experience. Consider factors such as size, canvas material, weather resistance, and ventilation when making your decision. By doing thorough research and considering your camping needs and preferences, you can find the perfect canvas bell tent that provides years of enjoyable outdoor adventures.
If you want to know more information about Canvas Bell Tent, please contact us. We will provide professional answers.