Jun. 13, 2020
Advantages and disadvantages of Car Roof Tent

Advantages: The Tepui I tested are very comfortable, easy to install, durable and weatherproof. It creates a flat surface that can sleep on it, and I wake up with full rest. I think I sleep better overall than the tents on the ground. I can't talk about all the roof tents, but the heavier material can make the mattress thick and protect the weather very well.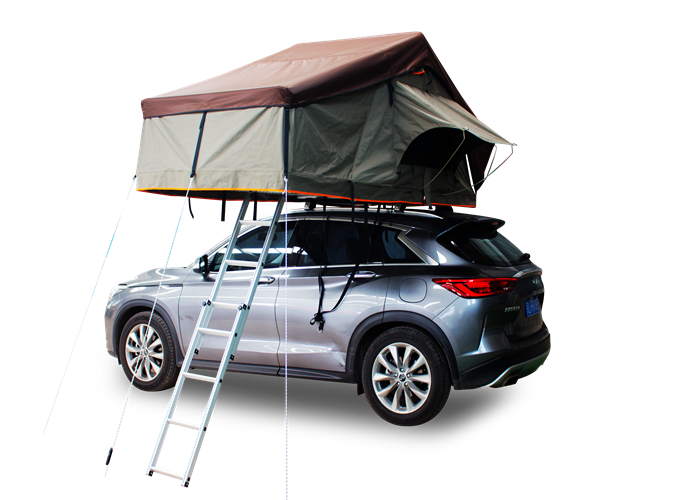 Awning Roof Tent
We set up a tent and opened the rear baffle to prevent rain
roof tent system is much cheaper than RV. It's also much easier to drive considering that you' re driving a regular vehicle instead of a land yacht. No, you don't have a boat bathroom, shower and kitchen sink. But my wife and I did carry a large water tank, a stove with two burners and a YETI cooler.
Compared to sleeping in a hat or car: the system's advantage for us (compared to sleeping in a truck bed) is that the hat can now be opened to carry equipment. No one needs to sleep there, so you can fill it up. This is huge for us because we are going to Alaska for a two-month trip that requires a mix of professional clothing and toys (such as bike and hiking gear).
Similarly, especially in Bear Country/area, you can fix your equipment in a hat when not in use and at night. It's also for valuables you do n' t want to wander around the camp. The hat is no longer a bedroom, but becomes your outfit locker and kitchen, making the bedroom face up.
The disadvantage compared to hat (or sleeping on a car) is that you stand out. People will notice that this stops in many places. It is less fuel efficient and more expensive than sleeping in the car alone.
Disadvantages: You can't set up a tent and drive away. This is the biggest drawback of the roof system. If you want to set up a week-long camp and drive around, you have to pull down the tent every time. You may also need to leave something in the camp to keep your position.
It is worth noting that you will not unload the tent from the truck and put it on the ground in a short time. any of these will weigh more than 100 lbs and are not suitable for placement on the ground.
Another disadvantage is that tents do damage fuel efficiency and may affect vehicle performance. I haven't really noticed the big changes in the Ford Rangers, but I suspect it cost me about half a mile of gallon oil.
There seems to be no difference in how the truck is handled, although I'm sure it will affect the high-speed turn, anyway, I' m not even taking this into account in a pickup truck with a roof plate. For serious SUVs, it does increase your center of gravity, but if you get weird and crawl on irregular paths, you already know, right?
Price is another factor. The roof tent is not cheap. Compared with high quality tent and sleeping pad packaging, the price difference is reduced, but the price of roof system is still much higher.
Our company also has Awning Roof Tent for sale, welcome to consult us.