Mar. 03, 2023
A freestanding awning is a type of canopy that is not attached to a building or any other structure. Unlike fixed awnings that are mounted to the wall, freestanding awnings are supported by their own frame, which can be made of metal, wood or other materials. This type of awning is ideal for patios, decks or any other outdoor area that requires shade without the need for an additional structure.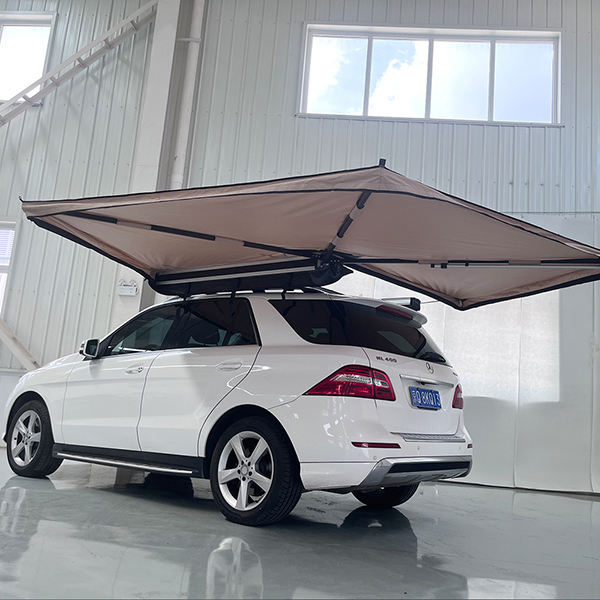 Customized retractable outdoor 420d ripstop camping 270 degree freestand foxing awning
Benefits of Freestanding Awnings
Freestanding awnings offer a range of benefits that make them a popular choice for homeowners looking to create an outdoor living space. Here are some of the key benefits of freestanding awnings
Versatility. Freestanding awnings can be placed anywhere in your yard, providing you with flexibility and freedom when designing your outdoor living space.
Easy to install. Unlike fixed awnings that need to be mounted on a wall, freestanding awnings can be assembled quickly and easily, without any special tools or skills.
Customization. Freestanding awnings are available in a range of sizes, styles and materials, allowing you to create a personalized look that complements your home's architecture and your personal style.
Protection. Freestanding awnings can provide protection from the sun's harmful UV rays, keeping you and your family safe from skin damage.
Comfort. Freestanding awnings provide shade and shelter so you can enjoy your outdoor living space in comfort, even on the hottest days.
Factors to Consider when Choosing a Freestanding Awning
Size. The first thing to consider when choosing a freestanding awning is the size of your outdoor space. You'll want to measure the area where you plan to place your awning to make sure it fits. It's also important to consider the height of the awning, as you want to make sure it will provide adequate shade.
Style. Freestanding awnings come in a variety of styles, so it's important to choose one that complements your vehicle's style and your personal tastes.
Functionality. Consider what you want your freestanding awning to be able to do. Do you want it to provide shade for dining and entertaining, or do you want it to provide a quiet place to read and relax?
Maintenance. Freestanding awnings require regular maintenance to keep them in top condition. Consider how much time and effort you are willing to devote to maintaining your awning. Fabric awnings may require more maintenance, such as regular cleaning and weatherproofing, while wood and metal awnings may require regular sealing or painting.
Budget. Finally, consider your budget when choosing a freestanding awning. Depending on the material, size and style of the awning, prices can vary widely. Before you start looking, set a budget to ensure that the awning you choose will meet your needs without breaking the bank.
If you want to know more information about freestanding awning, please contact us. We will provide professional answers.