Jan. 10, 2022
If you work 9 to 5, weekends are your precious time to get away from your desk and get out and explore.
We're right there with you. Camping for us is all about getting away from it all and spending as many nights as possible under the stars.
But when you have a busy life, making time to plan a camping trip is harder than it sounds.
That's exactly why we love rooftop tents, and why we started Sunday Campers. A rooftop tent is a convenient bed on wheels that's ready to roll when you want to get away from everyday life and get some R&R urges in nature.
Sunday Campers' hard shell rooftop tents take rooftop tent camping to a new level of convenience and comfort. Our tents pop up in a minute, are durable and waterproof, and come with a comfortable built-in mattress. So you can fully enjoy the outdoors without sacrificing a good night's sleep.
But you need Sunday Campers for more than just convenience, ease and comfort. Here are the top 9 reasons why you should buy a roof top tent.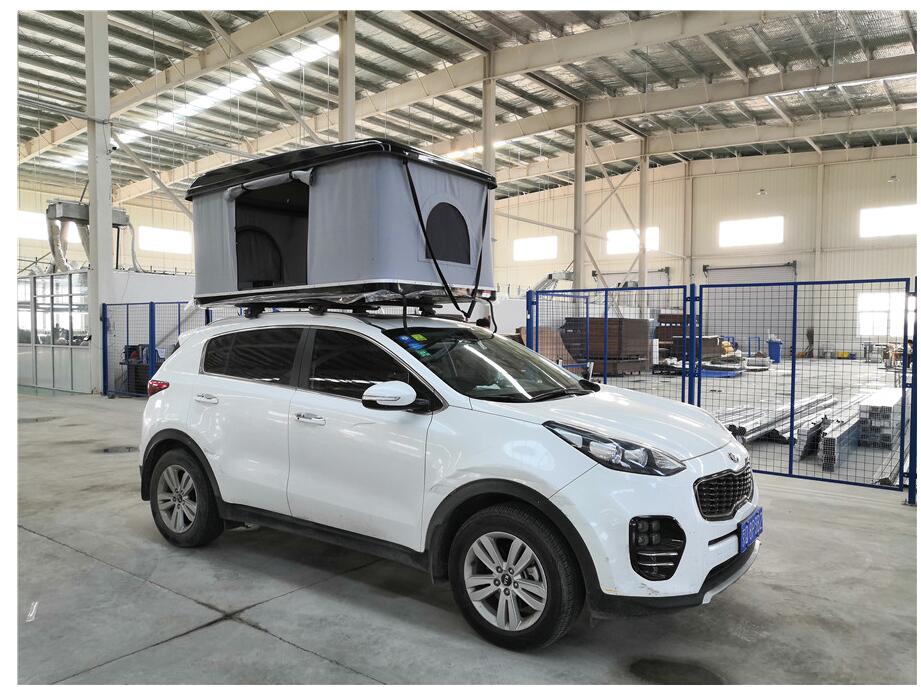 1. You can live #VanLife without actually living in a van
When you search #vanlife on Ins, you'll see thousands of beautiful photos of people living picturesque lives in super stylish vans. They're parked on the beach. There are bonfires, surfboards and cute dogs. We have to admit, it's tempting.
But let's face it: not all of us are fortunate enough to drive around the world in a van and wake up every day to discover a new place. Full-time van life isn't an option for everyone.
With a roof-top tent, your car automatically becomes a bedroom on wheels, so you can enjoy #vanlife anywhere, anytime, without actually living in a van.
2. Camping on high protects against pests
Elevation is the name of the game when it comes to camping. Staying off the ground means less chance of encountering snakes, waking up with spiders crawling on you or other unwanted and sometimes downright dangerous critter encounters in your tent.
With Sunday Campers' rooftop tents, you can sleep at a safe and higher altitude, away from pests that can make sleeping on the ground uncomfortable at best, and dangerous at worst.
3. Rooftop tents are more comfortable
No matter what sleeping pad you buy for your camping setup, it won't be as comfortable as a real mattress. When it's time to rest in your rooftop tent, you'll enjoy the comfort of a high-density foam mattress built into the tent. Zero setup required.
Combined with the tent's thick weatherproof walls, you'll almost forget you're camping. When the temperature drops at night, sleeping off the ground will keep you warmer.
After a long day exploring the great outdoors, Sunday Campers is your ticket to a good night's sleep.
4. Sunday Campers hardshell roof tents set up in 60 seconds or less
Off work on a Friday afternoon in order to find the perfect campsite before the weekend rush?
With a regular tent, the scene might look a lot like this: pull up to the campsite after dark, put on your headlamp, find a flat spot, unroll your tent, set up your poles, set up your tent, attach your rain wing, unroll your bedding and hope you didn't just put your tent on a pile of rocks.
Rooftop tents are a much more attractive option. Arrive at your campsite, pop out your roof tent in a minute, and then relax by the campfire. We'll let you decide which sounds better. 5.
5. No time wasted packing up your tent
With a roof-top tent, you're always ready to start your next adventure. You don't have to dig out your tent and sleeping bag once you've been gone for 2 hours and you realize you forgot the poles.
Your roof top tent is ready to go on the roof of your car during the camping season, and most models allow you to store your sleeping bag neatly inside your car.
Don't worry about where you'll sleep - your base camp is always with you. Roof top tents Allow you to get out and explore more often and more easily.
6. Camp comfortably in cold weather
If you're in the mountains or other cooler areas, the camping season can be short and sweet. It may start late due to rain and hail in May, or be interrupted by an unexpected snowstorm in September.
That is, unless you're rooftop camping.
With the fiberglass shell and insulated, weatherproof sidewalls of the Sunday Campers Rooftop Tent, you can camp comfortably in the rain and snow. No matter what Mother Nature throws down, you'll stay extra warm.
That means you can extend your camping season beyond the summer months and get more use out of your car-top tent than with a traditional tent. More use equals more value.
7. More space for your gear
We know you can always make more room for your gear. Bikes, kayaks, crash pads, skis - the list goes on and on.
Sometimes your outdoor adventures may be limited by the amount of space (or lack thereof) in your car.
A roof-top tent sits on top of your car, which means you don't have a tent to clutter up your valuable cargo space. With most of our tent models, you can store all your bedding inside the roof tent, freeing up more space.
8. Roofs are aerodynamic and fuel efficient
With the sleek and sturdy design of the roof tent, you can get better fuel efficiency than other roof tents. Roof tents are designed to be both durable and weatherproof, so there's no reason you can't keep them on top of your car year-round.
You never know when an impromptu camping opportunity will present itself. Stay prepared.
If you're not keen on winter camping, a roof top tent is easy to remove from your vehicle. At the end of your camping season, unload it from your ride and store it for the winter. When spring starts spring, set it back up and you're ready to roll.
9. Be a part of the Sunday Campers group
When you buy a Roofnest, you get more than just a roof tent. You become a member of our group.
You'll have the opportunity to connect with like-minded outdoor enthusiasts who will answer questions, share great hikes and inspire you to keep exploring.
You may even meet fellow hikers on your next outing. New friends? We'll never say no to that.